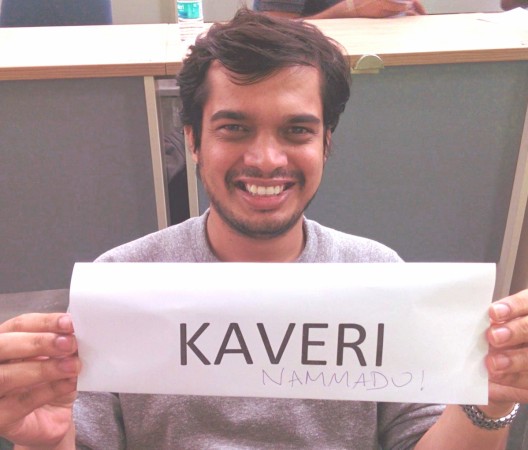 A Bengaluru-based quizzer's photo from a year ago is gaining popularity on social media in light of the Cauvery water dispute between Karnataka and Tamil Nadu, and a small but witty change made to the name of his quiz team by him.
Thejaswi Udupa, who works as chief technology officer at online construction materials marketplace, Buildkar, told International Business Times, India, that the quiz was held over two years ago, and that it was only receiving the newfound attention because he had made it his display picture on Monday, September 19.
"That's a photo from a couple of years ago. Taken at a quiz in Great Lakes Institute of Management," said Udupa, who is "either quizzing, or writing, or listening to heavy music" when he is not working. The event was called QuizProQuo, and was part of the institute's annual fest.
He added: "The finals had river names assigned for teams, [and] our team got Kaveri. And I promptly decided to add the 'nammadu'. Another quizzer who noticed what I did, Ramesh Natarajan, took the photo. That's pretty much all there is to it." The translation comes to "Cauvery is ours," something every pro-Kannada activist chants while protesting against the release of water to Tamil Nadu.
"The other teams in the final round were also named after major rivers of India — Ganga, Yamuna, Narmada, Godavari and so on," Udupa, who had teamed up with fellow quizzer Jayakanthan R, told IBTimes India.
Since he put the image as his DP on Facebook, he has received hundreds of reactions to it, because it is especially topical when Karnataka and Tamil Nadu are fighting for water from the Cauvery river in the Supreme Court.
The apex court had recently ordered Karnataka to release 6,000 cusecs of water daily from the river to Tamil Nadu from September 21 to 27. However, the Karnataka government, in a decision late on Wednesday evening, deferred the release of the water, with Chief Minister Siddaramaiah saying soon after the Supreme Court order: "Since we do not have water, it [the apex court's order] is very difficult to implement. It is an unimplementable order."
See Thejaswi Udupa's image here: