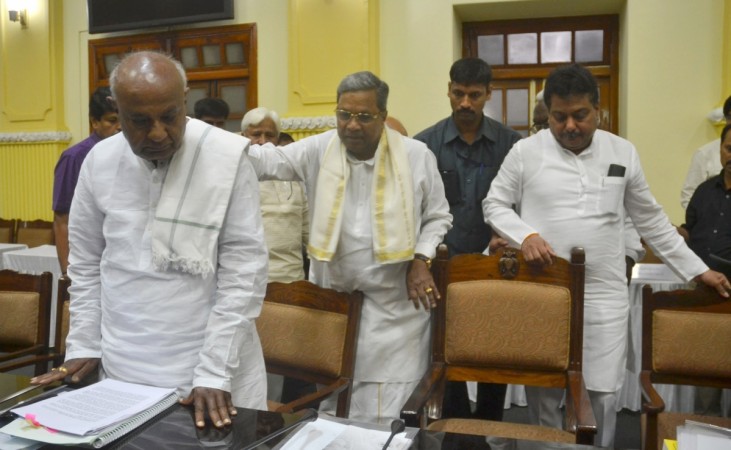 Karnataka Chief Minister Siddaramaiah on Wednesday evening set himself up for a collision with the Supreme Court by deferring the release of water from the Cauvery river to Tamil Nadu.
This was in direct violation of the Supreme Court order from Tuesday, September 20, in which the apex court had told Karnataka to release 6,000 cusecs of water to Tamil Nadu for seven days -- from September 21 to 27. By not following that order, Siddaramaiah could be putting himself at risk of contempt of court.
The Karnataka chief minister on Wednesday said through his official Twitter handle that the state was deferring the release of water to Tamil Nadu, but did not confirm till what time this deferment would be active. He also said there would be a special session of the state legislature on September 22 on the issue, after which a final decision would be taken.
Siddaramaiah's decision on Wednesday came following an all-party meeting, which was attended by political veterans such as JD(S) chief HD Deve Gowda and his son and MLA HD Kumarswamy. Siddaramaiah had also reportedly met Congress MPs on the issue earlier in the day, but the outcome of that meeting has not been revealed.
Siddaramaiah had, when the Supreme Court issued the fresh water-release order, said: "Since we do not have water, it [the apex court's order] is very difficult to implement. It is an unimplementable order." This was in line with the argument Fali Nariman, appearing for Karnataka, made before the Supreme Court. He had said: "We will have to sacrifice our drinking water for irrigation purposes in Tamil Nadu."
Meanwhile, members of the Karnataka Rakshana Vedike -- pro-Kannada activists -- took to protesting in some places in Bengaluru for some time on Wednesday over the Supreme Court order. However, no major untoward incident was reported.