The Bruhat Bengaluru Mahanagara Palike (BBMP) on Wednesday began a drive to ensure that all shops have hoardings primarily in Kannada, and have threatened to cancel licenses if shop owners do not comply within seven days.
The drive, which has caught owners unawares, resulted in the removing of several hoardings in Forum Mall in Koramangala after an ugly altercation between officials and store owners. The civic body has also given stores seven days notice to comply with the order, which states that a majority of the space must be reserved for Kannada.
The body has however defended its drive, saying it was only enforcing the compliance of the law and spread awareness. Shop owners, however, have hit back saying that they were never informed earlier about the order, and it was never enforced before. They have also asked for time, but in a few cases the officials did not listen and began tearing down hoardings that were not in Kannada.
As per the Karnataka Shops and Commercial Establishments Act, all commercial establishments in the state should reserve 60 percent of space for Kannada, while the remaining 40 percent is to be used to English.

In Bengaluru, however, that is far from the case as establishments in many malls and high-end areas throughout the city have chosen to adopt an English-only approach reflecting the diverse nature of Bengaluru's residents.
Pro-Kannada activists earlier moved Mayor Sampath Raj to take action against all establishments without Kannada hoardings. Similar action was demanded in July 2017, by the Kannada Development Authority chairman SG Siddaramaiah, but was stalled due to the Assembly elections.
Chief Health Officer, Dr Manoranjan Hegde said that the drive will be conducted in every zone in the city by the BBMP, starting with the Koramangala South Zone. He also defended the removal of hoardings and serving of notices, saying the order was posted online long ago, but owners have not taken cognizance of it.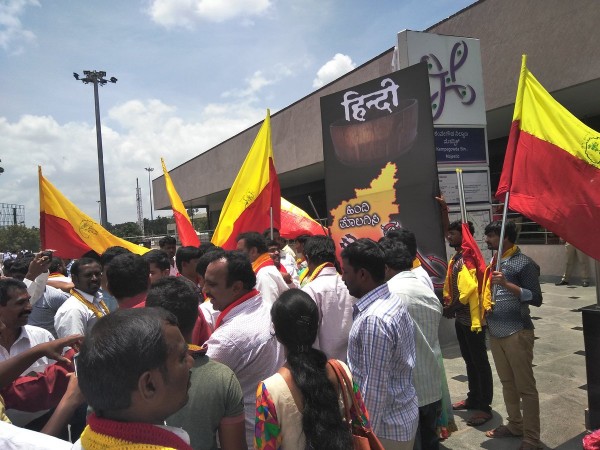 In a similar incident, Pro-Kannada activists defaced several metro stations in the city last year after Hindi signboards were found at metro stations. Calling it a scheme by the Modi government, they demanded that the BMRCL, the metro's managing body, remove the Hindi signboards and announcements, which the body did.