Days after Bangalore Metro Rail Corporation Ltd (BMRCL) covered up Hindi signboards on two recently-inaugurated metro stations in the city, the language row in Karnataka seems to have taken a turn for the worse.
A pro-Kannada organisation -- Karnataka Rakshana Vedike (KRV) -- reportedly defaced English and Hindi signage of a restaurant in a mall near Bengaluru's Eco Tech Park on Wednesday.
KRV activist Praveen Shetty, while speaking to ANI, accepted the responsibility of defacing Hindi and English signages of the restaurant.
"We have done this because industries and businesses use land; electricity of Karnataka for profit but they don't want to use Kannada language or give jobs to Kannadigas," Shetty said.
He also demanded that Kannada signs should be used in New Delhi and other places in the North for Karnataka to use Hindi or English signages in the southern state.
"If you put Kannada signage in Delhi and other places, then we will put your signages in Karnataka," Shetty said.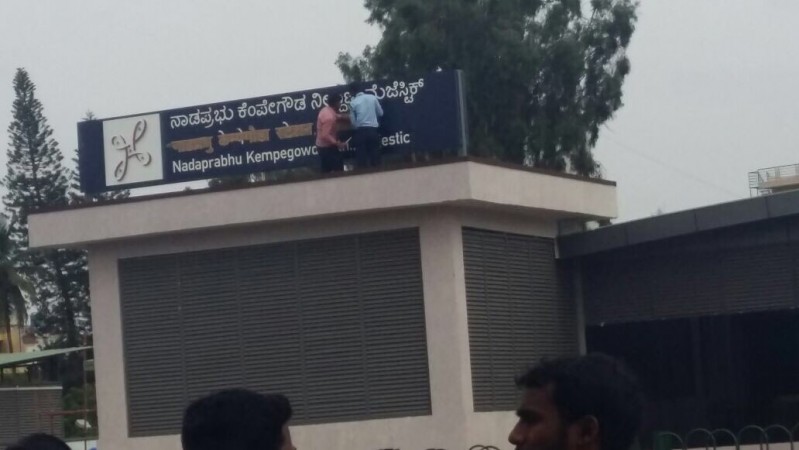 An anti-Hindi Twitter campaign called #NammaMetroHindiBeda ('Our Metro, We don't want Hindi'), was launched on July 2, after which the signboards of two metro stations in Bengaluru -- Chickpete and Majestic -- were covered with paper and taped. These metro had signages in Kannada, English and Hindi.
The metro rail authorities took covered the Hindi signs after the Upparpet police received information from sources that pro-Kannada organisations were planning to enter the Kempegowda and Chickpete stations and blacken all the signboards bearing information in Hindi.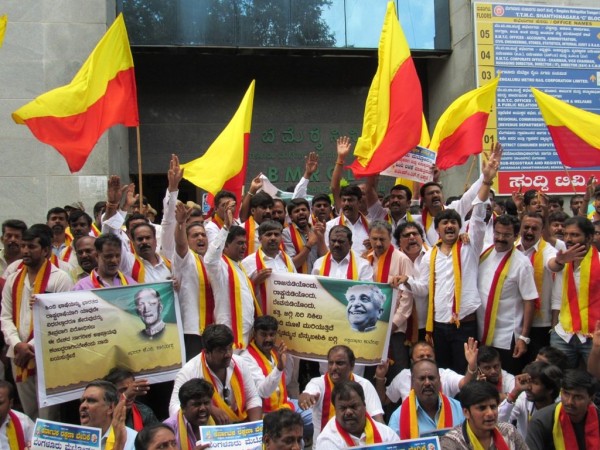 The language war in the state seems nowhere near settling down, as the Karnataka government appears to be in favour of the anti-Hindi, anti-English Twitter campaign.
Karnataka CM Siddaramaiah has reportedly supported the anti-Hindi brigade and has asked the officials to find out what policy was followed in non-Hindi states like Tamil Nadu, Kerala and West Bengal.
After the CM's directive, the Kannada Development Authority (KDA) issued a notice to the BMRCL on Tuesday seeking an explanation as to why it was using three-language policy on its signages.
"I have written to the MD of BMRCL asking him under what rules Hindi has been added on the signboards," KDA chairperson was quoted as saying by the Hindustan Times. "It is only central government entities that are required to follow the three-language formula whereas all other establishments should have Kannada and another language, with Kannada in a larger font," the chairperson added.