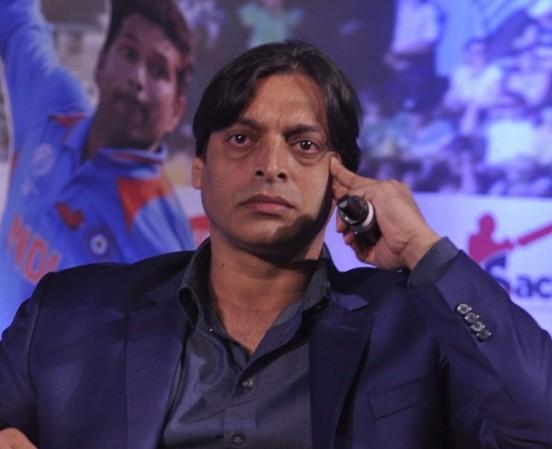 Former Pakistan pacer Shoaib Akhtar was irked by an Indian television anchor's comments on the performances of the Men in Green in the ongoing Asia Cup tournament.
Akhtar, who was part of a television news show which built up to the Super Four encounter between the arch-rivals earlier this week, can be seen visibly upset after the anchor says India had 'cleaned up' Pakistan in their Group A encounter, which was held on September 19.
In the video that has gone viral on social media, the popular anchor can be heard saying Rohit Sharma's Team India had taken the popular Swachhta Mission — nationwide cleanliness campaign — a bit too seriously during their eight-wicket win against Pakistan in their first meeting in over a year.
The anchor went on to ask if the Pakistani players were prepared for a similar thrashing in the Super Four Match.
Shoaib, despite being irked by the question, maintained his composure and told the news anchor that he respected her before requesting to be kind enough and ask questions about cricket.
Here's how the conversation between the news anchor and Akhtar panned out.
Anchor: We have Pakistani cricketer Shoaib Akhtar with us today from Dubai. Shoaib, thank you for joining us and welcome to ABP News.

I want to tell you, in India, there is a clean-up mission called Swachhta Mission. And now, a new form of it has started. Team India has taken this Swachhta mission very seriously. Just a hundred hours back, Pakistan team was cleaned up by Team India.

I hope your players are prepared for the same today as well.

Akhtar: See, I don't know what your name is but I respect you a lot. But if you ask questions with some manners, I will answer your question. But you keep saying that they (Pakistan team) were cleaned up, washed or scrubbed.

Ask me questions about cricket, I will answer the questions. If you are kind enough, please ask me questions regarding cricket. I don't understand if you keep saying washed and cleaned up. I will answer anything you ask me about cricket.

Anchor: Please don't get angry. The previous game was one-sided. I just want to know what preparations you (the team) had done for this game.

Akhtar: Yes ma'am. If you ask me these questions, I will answer them. I am sitting in front of you and not the Haryana club leader for you to ask about washing and cleaning.

Please don't talk like this and ask me only about cricket. Please understand who is sitting in front of you.
Eventually, Pakistan went on to lose the Super Four match as well to India. The nine-wicket win was also India's biggest-ever win over their arch-rivals in terms of the number of wickets remaining.
Shikhar Dhawan and Rohit toyed with the Pakistani bowlers as they stitched a record-breaking 210-run stand, thereby helping India successfully chase down a 238-run target with 63 balls to spare.
While India made to it the final despite playing out a tie against Afghanistan in their final Super Four match on Tuesday, Pakistan will face Bangladesh in a must-win encounter later today for a spot in the championship match, scheduled for Friday in Dubai.
(Video credit: ABP News)