India all-rounder Kedar Jadhav insisted that he is taking his role as a bowler seriously after picking up a match-winning three-for in the Asia Cup 2018 Group A match against Pakistan in Dubai on Wednesday, September 19.
India had lost Hardik Pandya to an injury midway during Pakistan's innings with a back injury but Jadhav made sure Rohit Sharma's men didn't feel the absence of their first-choice all-rounder with a disciplined bowling display.
With his slingy and low arm action, Jadhav bamboozled the Pakistani batsmen on a sluggish wicket. He dismissed captain Sarfraz Ahmed before sending Asif Ali and Shadab Khan back to the hut, thereby running throughout the middle-order.
Jadhav along with India's spin twins Kuldeep Yadav and Yuzvendra Chahal built on the pressure created by Bhuvneshwar Kumar's early wickets. Pakistan eventually were bowled out for a meager 162, which was comfortably chased down by India.
"I have already taken my role seriously hence I am doing well and bowling consistently. My role in the team is to contain batsmen and in that process if I get a wicket, it's fine. The wicket was slightly on the better side and my bowling is all about reading batsmen's mind," Jadhav said.
He added: "I stick to my limitations and try to bowl likewise. I have tried bowling with a lower arm in nets but that's not allowed, I guess. I have to stick to wicket-to-wicket bowling, that's why batsmen find difficult to score against me.
"To get singles as well, it becomes difficult. I don't give them much speed to deal with, hence it becomes difficult to hit the big shots."
Notably, Jadhav ability to remove specialist batsmen has come as a big plus to the Indian team. The 33-year-old has picked up 19 wickets so far from 42 ODIs and more than 80% of his victims are top-order batsmen.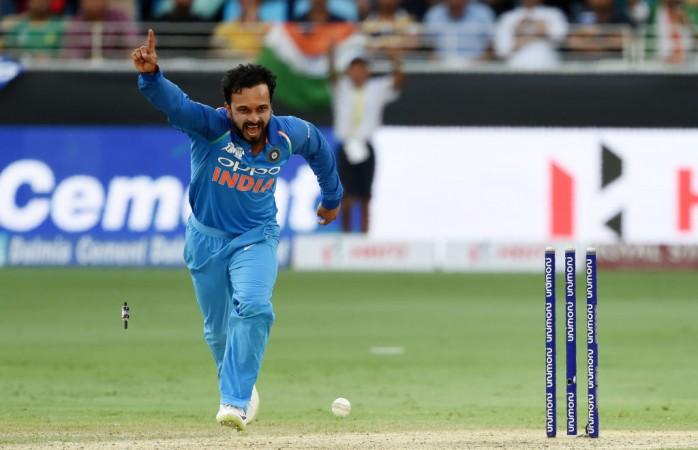 Jadhav's performances augur well for the team: Rohit
Captain Rohit, who hit a quickfire fifty in the successful chase, heaped praise on Jadhav after India completed their biggest win over arch-rivals in terms of ball left (126).
"Jadhav has been working on his bowling, takes his bowling very seriously. Every now and then, he has come and done the job for the team which augurs well," the skipper said.
Bowling those crucial overs and taking wickets are bonuses for us. Especially when Hardik got injured, it was important for him to carry on and put the team into the right track."
Nice to get a wake-up call early: Sarfraz
Pakistan captain Sarfraz revealed he was disappointed to lose wickets against Jadhav, especially after preparing to tackle the spin threat of Kuldeep and Chahal.
The skipper also insisted that Pakistan would treat the eight-wicket defeat as an "early wake-up call" and be better prepared when the two teams meet in the Super Four round on Sunday, September 23.
"We had prepared for the two spinners but the third one chipped in with wickets. It is nice to get a wake-up call early on in the tournament and we would not want to commit the same mistakes. We will come back better prepared next time," Sarfraz said.