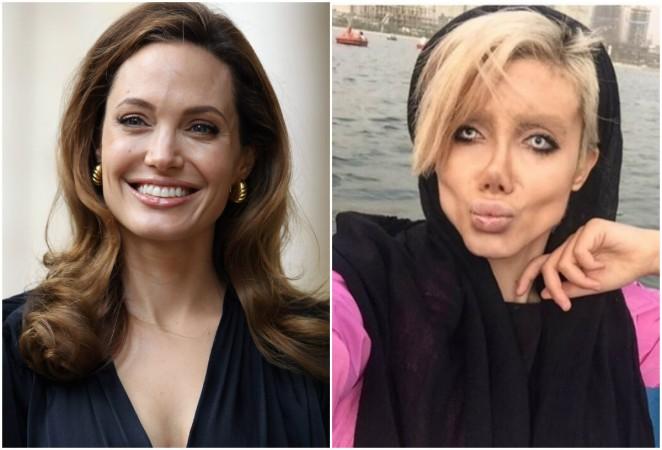 Sahar Tabar – the self proclaimed Angelina Jolie lookalike that the world seems to have been going crazy about has just busted her own claim to have undergone 50 surgeries to look like the bombshell – while actually ending up looking nothing like her. "I did it to amuse myself," the Iranian girl says now.
The 19-year-old who had initially claimed to have undergone all those surgeries has now admitted that while she did undergo a few of them, they weren't anything close to 50.
Also read: Angelina Jolie lookalike? Iranian teen undergoes 50 surgeries and people call her 'zombie'
Sahar's photos went extremely viral over the internet right after she claimed to have undergone an extreme makeover just to look like the Oscar winning actress, who happened to be her favourite Hollywood star, as she shared.
But her striking looks was received with a lot of negativity as her skin appeared to be greying and with white contact lenses, people took to labelling her as even a "zombie" and "corpse bride".
People have also called her attention seeker and accused her of photoshopping her photos in order to bring out such dramatic effects and features, to pull off the 50-surgeries-facade. And while previously she did admit to using Photoshop, she stuck to her claims on surgeries.
Until now. In an interview with Sputnik, she said, "Now I can see that I have something in common with her [Angelina Jolie], but I amuse myself, and to look like someone is not my goal." She also revealed how she created the "corpse bride" look using just Photoshop.
"Over time I post a photo, I make my face more fun and funny, it is a form of self-expression, a kind of art. My fans know that this is not my real face." And true to her words, Sabar's instagram is also full of make-up free photos that were earlier claimed to be pre-surgery photos.
Sabar also added, "I have had my nose operated, my lips were enlarged and I also had a liposuction," talking about the only procedures she has undergone to acquire her desired features and looks.
"I do not see anything terrible in the operations, many people do this kind of procedures all over the planet."