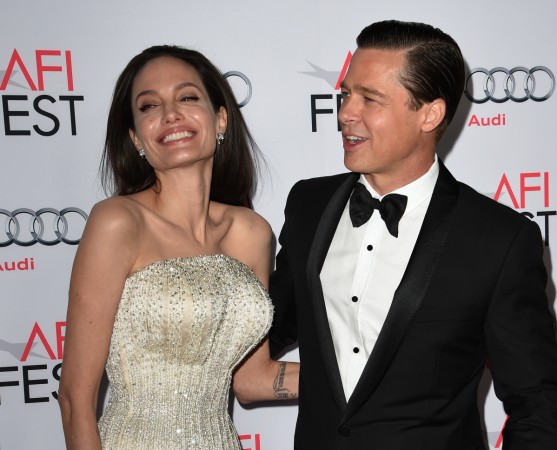 After they were involved for 12 solid years, Angelina Jolie and Brad Pitt decided to get married in August 2014 but little did the two predict that their relationship thereafter wouldn't last more than two years.
The couple, now estranged, parted ways in September 2016 after Jolie filed for divorce amidst rumours that Pitt was cheating on her and reports of a mid-air incident involving their son Maddox. While the actual reason for their split was not revealed, Pitt confessed earlier this year that his drinking problem was one of the factors that led to the divorce. Now, Jolie has revealed that their relationship was on the rocks soon after Brangelina married.
Also read: Brad Pitt wants to date Jennifer Lawrence to make Angelina Jolie jealous?
Talking to The Hollywood Reporter's podcast, Awards Chatter, the actress confessed that the couple were having troubles in their relationship around the time they got married. Hence, the actress thought that working on By the Sea would help them reconnect and resolve issues.
"We had met working together and we worked together well," she said referring to Mr & Mrs Smith in 2005. "I wanted us to do some serious work together. I thought it would be a good way for us to communicate," referring to the 2015 movie she said.
However, things did not go as per plans. She explained that the "working together" situation did not fully help their relationship.
"In some ways it was, and in some ways we learned some things. But there was a heaviness probably during that situation that carried on and it wasn't because of the film. It was something that we were dealing... things happen for different reasons, and things... why did I write that exact piece? Why did we feel that way when we made it? I'm not sure," she explained.
Jolie also addressed various complications she went through while they were together. "Over the span of that decade, I did lose my mother. I did have my mastectomy, and I did then have an ovarian cancer scare and have that surgery as well, and other things of course that happened in life that you go through," she recalled.
While the film did not help the couple, Jolie is still glad she did the movie with Pitt. "A piece of art can be something that's healing or something that's difficult. I don't know. I'm glad we did that film because we did explore something together," she said.
"Whatever it was maybe it didn't solve certain things, but we did communicate something that needed to be communicated to each other," she added.
For those of you who don't know, By The Sea was written and directed by Jolie and dealt with a couple 14 years into their marriage who are growing apart due to communication problems, intimacy issues, and fertility struggles.