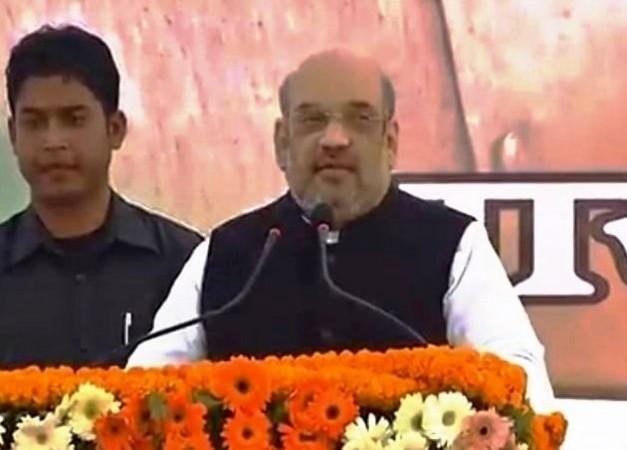 Bharatiya Janata Party President Amit Shah said on Tuesday that the country's security is more important than human rights concerns. He went on to say that he would expel all illegal Bangladeshi immigrants one by one.
Shah made these comments while addressing party workers in Jaipur.
He targeted the Congress and its comments on the NRC draft, which was released in July.
"You oppose it as much you want, but the BJP's vision is that we won't let even one Bangladeshi infiltrator stay in the country...We will single them out, one by one, and expel them...We have taken a firm decision that the BJP will not go back on the NRC. And after singling them out, we will put them on the list so that they can be identified".
"They speak of human rights... Isn't there a concern about the security of the country? Hundreds of terrorists infiltrate into the country and plan bomb blasts. Many such incidents happened in your regime," he said, according to the Indian Express.
He then spoke about the Congress Party's new way of helping the Bangladeshi immigrants as well as the Indians in Bangladesh. Shah said, "The Congress has devised a new way of saving Bangladeshis, saying that if they are driven out of the country, what will happen to the Hindus there? Brother, you don't need to teach us".
He added to this statement saying that a Citizen Amendment Bill was passed in 2016 where Hindu, Sikh, Jain, and Buddhists from Afghanistan, Bangladesh, and Pakistan seeking refuge in India would not be seen as infiltrators but as 'asylum seekers' and would be granted citizenship.
In his speech, Amit Shah also said that the Opposition always brings up Aqhlaq's death in 2015. The man was killed over suspicion of possessing beef. The leader then went on to gloat about BJP's recent election wins.
"When Akhlaq happened, we won. We won when award wapsi happened. If they do something else now, too, we will win," Amit Shah said.
The previous day, BJP General Secretary Ram Madhav made similar comments while addressing a seminar, 'NRC: Defending the Borders, Securing the Culture' in Delhi. He said that those whose names aren't on the final Assam-specific National Register of Citizens list would be deported to their countries.