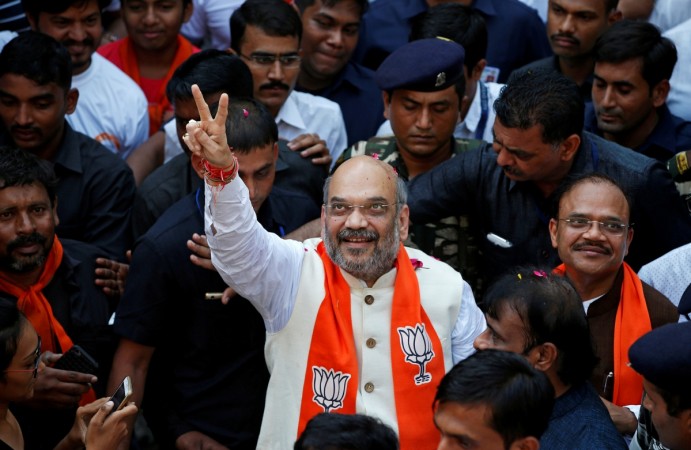 Bharatiya Janata Party President Amit Shah targeted the ruling Trinamool Congress and said that the party was protecting illegal immigrants from Bangladesh. He also claimed that BJP will uproot the incumbent government from West Bengal.
Shah was addressing a massive rally in Kolkata's Mayo Road. He was, however, greeted with black flags reading "Anti-Bengal BJP Go Back" at the Netaji Subhas Chandra Bose International Airport in Kolkata. The posters were also spotted around Mayo Road where the rally was taking place.
The BJP president also claimed that Bangladeshi infiltrators were a vote bank for previous Communist government and have now become the vote bank for TMC.
"Even if you try to suppress our voices, we will go to every district of Bengal and throw TMC out". He added that corruption has been "flourishing since the party (TMC) came to power,"' Shah was quoted as saying by Indian Express.
He requested the people of West Bengal to give Prime Minister Narendra Modi a chance to take the state further ahead in terms of development.
"We gave central funds to West Bengal, but they were misused. It went as a gift to bhatija (Abhisekh) and syndicate. TMC creates a problem during Durga immersion. But if BJP wins, I promise people will be given free will be praying and immerse the Goddess. Let us swear to make Bengal a place of Syama Prasad Mukherjee and give a chance to Prime Minister Narendra Modi," reports News 18.
While addressing the issue of illegal immigrants, Shah proclaimed that "Mamata Banerjee or Rahul Gandhi won't be able to stop BJP from carrying out with the NRC."
He accused the TMC of allowing them into the state just for votes. "For the BJP, the country comes first, ahead of the vote bank. You can oppose us as much as you want, but we will not stall the process of NRC," Shah said in the rally. The was Amit Shah's first visit to the state after the release of the NRC.