India's plan to build a military base in Seychelles' Assumption Island had dealt with stiff resistance from the east African country over the past few months. However, Seychelles President Danny Faure's visit to India has paved the way for strengthening the high-profile maritime diplomacy between the two nations.
On June 25, both India and Seychelles agreed upon working together on developing a naval base at the Assumption Island. This was followed by India announcing 100 million USD aid to Seychelles for improving its defence capabilities.
"With this credit, Seychelles will be able to buy defence equipment to boost its maritime capacity," Prime Minister Narendra Modi was quoted as saying by Press Trust of India.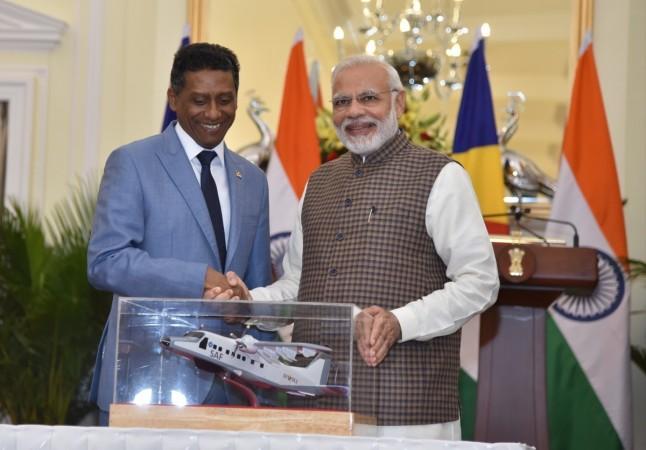 While addressing the naval facility project, PM Modi added, "We have agreed to work together on the Assumption Island project based on each other's rights."
Although India and Seychelles have now agreed upon the project, the Parliament of Seychelles had earlier refused to ratify the naval base in Assumption Island. Hence, it would be interesting to see how the two nations would take the project ahead in the absence of the parliamentary ratification, reports The Hindu.
The two leaders had met at Hyderabad House in New Delhi. Seychelles President Faure had also received a ceremonial welcome at the forecourt of the Rashtrapati Bhavan. He is currently on a six-day official trip to India.
"Welcoming the esteemed guest at Hyderabad House! PM @narendramodi received the President of Seychelles Danny Antoine Rollen Faure for bilateral talks. Special ties with a maritime neighbour," Ministry of External Affairs Spokesperson Raveesh Kumar tweeted.
Quick facts on Assumption Island
The Assumption Island was discovered by Captain Nicolas Morphey on August 14, 1756
It was named after the religious feast – Assumption Day – that is celebrated on the following day of August 15
The island is known for its picturesque scenery and features an uninterrupted 5.5-kilometer beach on the western shore
The beach on the island has pristine waters and a rich marine life. It has also been dubbed as one of the best beaches in the world.
The few residents, who live on the island, earn their livelihood through small-scale businesses such as farming and fishing
The island is barely inhabited and only has a small post office and an airstrip.