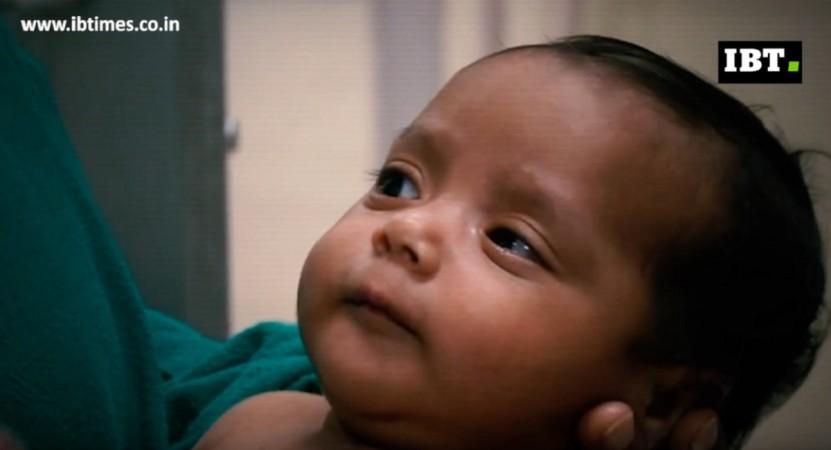 In a shocking incident that has shamed humanity, an ambulance rescued a girl child from a heap of garbage in Delhi's Mukarba Chowk area. The baby, who is hardly a month old, was taken to Babu Jagjivan Ram Memorial Hospital (BJRMH).
Dr Ashwin Patidar, paedeatrician at the Babu Jagjivan Ram Memorial Hospital, informed ANI about the present condition of the baby. She will be put up for adoption after she completely recovers, hospital authorities said. They also added that the condition of the girl child was stable now and they will discharge her within a few days.
"We often get such cases where parents abandon their kids," said Dr Pratibha Nanda, Medical Supreintendent at the BJRMH. She added that since this baby was a girl, it clearly suggests that the family did not want a female child so they abandoned her. She added that some hospitals even have the facility of a cradle point where parents can leave their kids if they think of taking such shameful steps like abandoning them.
Such incidents are not new to the national capital. This year in February, a mother had abandoned her 25-day old baby girl at a garbage dump near her home in New Vinod Nagar area of East Delhi after getting tired of constant pestering of her mother-in-law about bringing up her newborn daughter.
On one hand, our government is running campaigns like Beti Bachao Beti Padhao and on the other, some parents still feel that raising a girl child will be a burden for them. This particular incident in Delhi's Mukarba Chowk comes as a reminder of the position of women and girls in our country.
A recent Niti Ayog report had revealed that the total number of convictions under the Pre-Conception and Pre-Natal Diagnostic Techniques Act, 1994 stand at 449 out of the 545 cases filed so far this year till March. Out of these, the state of Haryana alone accounts for 158 cases. Rajasthan stood at a close second with 112 cases.