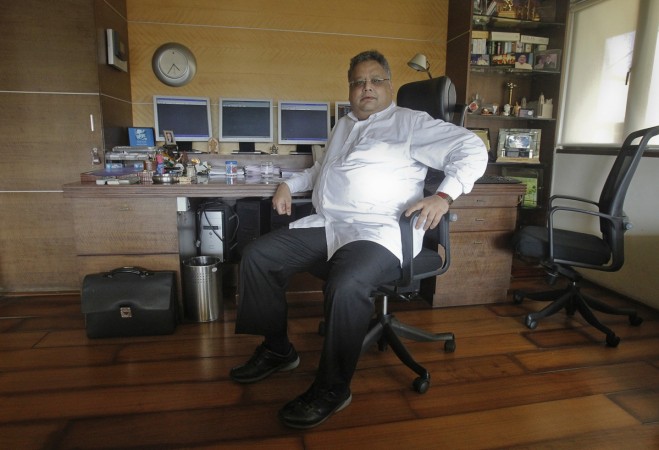 At a time when market experts and investors are shunning airline companies due to higher fixed costs and firm commodity prices, legendary investor Rakesh Jhunjhunwala is busy raking the stocks in his portfolio.
India's Warren Buffett, as he is commonly referred to, purchased another 10 lakh shares of SpiceJet last week.
Jhunjhunwala, who first bought SpiceJet shares in 2012, picked up 75 lakh shares, or 1.4 percent stake, in SpiceJet in November 2014, when the airline was on a downward trajectory that led to it shutting operations for a day in December.
He also bought 1.05 percent stake in the full-service private airline Jet Airways in 2015 and also holds some shares in InterGlobe Aviation, which owns the country's largest airline IndiGo.
Indian aviation sector is enjoying a stellar run, with domestic companies performing much better than their global peers.
While IndiGo has become the world's second most expensive aviation stock, SpiceJet was the world's best-performing airline stock during 2017.
IndiGo, which went public in 2015, is currently trading at 19 times its fiscal 2018 estimated P/E, behind South American company Latam Airlines, based on Bloomberg data.
Delta Airlines, the world's biggest airlines company, is currently trading at a P/E of 8.32, while the second-biggest airline, Southwest, has a P/E of 11.15.
The no-frills carrier enjoyed a market share of about 40 percent in January, while that of SpiceJet and Jet Airways stood at 14.3 percent and 12.6 percent, respectively.
While some analysts have expressed concern over rising crude oil prices, most of them are bullish about IndiGo's prospects. At least 17 of the 21 analysts tracking the stock have a buy recommendation.
To limit the impact of crude oil, pricing will be a crucial factor for airline companies.
For the nine-month period ended December 31, SpiceJet's fares increased 7 percent. Kiran Koteshwar, chief financial officer of the company, expects this to be a sustainable growth from a near- to medium-term perspective.
Shares in SpiceJet rose 2 percent to Rs 143, InterGlobe Aviation gained 1.4 percent to Rs 1,279 while Jet Airways was up 0.4 percent to Rs 754 on the Bombay Stock Exchange on Wednesday.