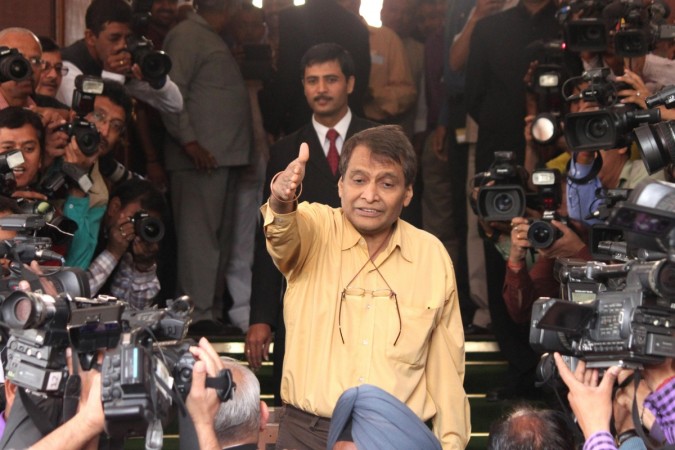 Rail Budget 2015: Railways to See ₹8.5 Lakh Crore Investment over Next Five Years, Says Rail Minister
Prime Minister Narendra Modi appreciated Railway Minister Suresh Prabhu's Rail Budget saying it is a forward looking, futuristic and passenger centric budget, having a combination of clear vision and a definite plan to achieve it.
"#RailBudget2015 is a forward looking, futuristic & passenger centric budget, combining a clear vision & a definite plan to achieve it," Modi tweeted after Prabhu presented his Budget for fiscal year 2015-16 on Thursday.
He further tweeted calling this Rail Budget "a watershed moment for Railways,marking a paradigm shift from discussing coaches & trains to comprehensive railway reform".
"I am particularly delighted that for the 1st time there is a concrete vision for technology upgradation & modernisation of the Railways," Modi said in his tweet.
Rail Budget lays out a clear roadmap to make the Railways the key driver of India's economic growth & playing a key role in India's progress

— Narendra Modi (@narendramodi) February 26, 2015
1:14 pm: We will transform the vision of Indian Railways.
1:13 pm: IRCTC will work on Kisan Yatra, a special travel scheme.
1:12 pm: Self employment particularly for women.
Skill development and self employment to be encouraged on Konkan Rly model
1:12 pm: A mechanism for making regulations, setting performance standards and tariffs to be setup
1:11 pm: Stress on water harvesting system.
1000MV Solar plants to be set-up by developers on Rly/Pvt. Land and on Rly Building at own cost
1:07 pm: ₹2000 cr for Coastal Connectivity Program; ₹2500 cr through BOT/Annuity route. 1000 MW Solar plant; 100 DEMUs to dual fuel
1:06 pm: Speedy construction of Railway lines to connect J&K
1:05 pm: Plan size increased by 52%; 41.6% GBS; 17.8% internal generation
1:02 pm: Railways is resource-tight. We are limited to Finance Ministry for funds. We should be able to generate resource through PPP.
1:01 pm: Framework to facilitate private investment has been readied. Major public sector companies to help meet requirements of new lines
12:59 pm: Expansion of Railway network in rural areas
12:57 pm: Research centre at IIT-BHU for Railway technology in the name of Madan Mohan Malaviya
12:54 pm: ₹6581 crore has been sanctioned for projects to ensure safety at 970 ROB or RUBs
Corporate safety Plans; ISRO to be involved; 3438 level crossings to be eliminated, Railway expense increased by 2600%
12:52 pm: Action plans will be ready by April to ensure safety at unmanned level crossings
12:50 pm: 9 hi-speed corridors, high speed trains, Make in India opportunities: Prabhu
12:47 pm: Private freight terminals reviewing of Wagon Leasing Scheme, Special Freight Operator Train , Private Freight Terminal schemes under process; automatic freight rebate system launched and to be expanded: Prabhu
12:46 pm: Railway connectivity for North Eastern State and J&K - ongoing process major thrust
12:43 pm: Will stress on fast track highest priority works. Investment 84% higher; 77 new projects -Doubling, tripling/quadrupling/ electrification. Debottlenecking – traffic facility works - 100% more funds allocated: Prabhu
12:42 pm: Wi-Fi services will be made available at 400 stations. Satellite terminals at 10 major cities
12:38 pm: 67% more funds allotted for passenger amenities. ₹120 crore provided for lifts and escalators to facilitate movements. Train sets, saving 20% journey time within next 2 years
12:37 pm: Lifts and escalators planned at special stations for elderly, differently-abled passengers and patients
Where to Watch Rail Budget 2015 Live
12:36 pm: Will focus on interior and exterior design of coaches. NID is being consulted for designs
Collaboration with NIFT and NID for better bed rolls, inner coach designs
12:35 pm: Facility for online booking of wheelchair for senior citizens, differently-abled and patients at select stations. Food can be booked online with IRCTC services
12:34 pm: SMS alert on mobile, customer portal promoting digital India campaign
12:31 pm: Water vending machines will be installed in stations. Clean water will be available at low cost
12:30 pm: Automatic ticket vending machines running on pilot basis at a few stations: Prabhu. Unreserved ticket purchase made simpler through smart phones and debit cards.
12:29 pm: Nirbhaya Funds to be used to ensure safety of women passengers, 24-hour toll-free Helpline Number 182 to be started from 1 March to ensure Safety and Railways helpline number 138 will also be active.
Surveillance cameras on select mainline and ladies compartments will be installed.
12:27 pm: Railways is your travelling home, please keep it clean: Prabhu to passengers
12:27 pm: Toilets facility needs improvement. vacuum toilets to be introduced: Prabhu
12:26 pm: No fare hikes. Air-conditioned coaches for suburban trains. Now passengers will be able to book tickets 120 days in advance instead of 60 days
Stress on cleanliness. We propose to create new department to keep our stations and trains clean: Prabhu
12:52 pm: Bringing in transparency to ensure passengers do not have to go through troubles at stations: Prabhu
12:23 pm: Need to harness the skills of our personnel with proper training: Prabhu
12:22 pm: Will increase annual freight capacity from 1 billion to 1.5 billion : Prabhu
12:21 pm: Will partner with multinational market and private sector for improving infrastructure sector: Prabhu
12:20 pm: Will work closely with states for development of Indian Railways. We will increase investments in IR to create jobs: Prabhu
12:19 pm: PM Narendra Modi's Make in India, Swachh Bharat, Skill Development vision to be focused in Rail Budget: Prabhu
12:18 pm: Goal 1 - Customer experience to receive a huge boost, Goal 2 - Safer Travel, Goal 3 -Modernise infrastructure; Goal 4- Indian Railways- Financially self-sustainable
12:16 pm: Public transport needs to be made comfortable: Prabhu
12:14 pm: "492 section of IR -running at a capacity of more than 100%; 228 running between 80-100%," Ministry of Railways.
12:13 pm: Chronic underinvestment has led to poor development of Indian Railways: Prabhu
12:12 pm: Railway Minister Suresh Prabhu presents Rail Budget in Lok Sabha
11:39 am: Prabhu reaches Parliament to present his maiden Rail Budget for the fiscal year 2015-16
11:28 am: Prabhu leaves Rail Bhavan to present the Budget in Parliament
10:30 am: The budget will set the direction of long and difficult road of reform: Prabhu tells DD, hours before the Budget session
10:24 am: Opposition said they will not allow the Rail Budget session to take place if Parliamentary Affairs Minister Venkaiah Naidu does not apologise for his remark
10:22 am: Opposition parties have launched a protest against Naidu's "self-introspect" comment on Congress. All the opposition parties have jointly complained to the Speaker
Referring to Rahul Gandhi's leave for a few weeks to introspect on party's political scenario, Naidu had asked Congress to "self-introspect" on its failure in politics one after the other. His comment had enraged the opposition parties
10:09 am: New lines for Jammu & Kashmir is likely to be seen in Rail Minister Suresh Prabhu's budget to be presented at around 12 pm on Thursday
10:05 am: Prabhu is likely to announce launch of bullet trains and there is possibility of changes in fare of tatkal tickets, according to news reports
Prabhu is all set to present BJP government's first full-fledged Rail Budget for the fiscal year 2015-16, which will be influenced by Prime Minister Narendra Modi's "Make in India" initiative and Swachh Bharat Mission and may also focus on private investment to boost the revenues.
The cash-strapped Railways is in great need of financial assistance to complete its pending projects. The Railways sanctioned ₹1,57,883 crore for 676 projects, of which only 317 have been completed and 359 lies pending. The remaining projects need a sum of ₹1,82,000 crore, reported PTI.
In the wake of financial crunch within the Ministry, Prabhu has decided to introduce nearly 100 new trains this year, unlike every other financial year when it launches about 150 to 180 new trains.
And some of the new trains that will be launched will be for the lines that are strategically crucial. It has also decided not to reduce the ticket fares this year despite lowering cost of fuel. In their maiden budget last year, Modi government increased the fares by 14.2% and freight by 6.5%.
Read in Detail about 2015 Railway Budget
"No fare reduction" might not come as good news for commuters, but no hike will sure come as relief for them all as the high prices at all sectors have already taken a toll on salaried class' economical situation.
The Ministry has taken all these measures to avoid the national transporter's finances from shrinking further. Apart from making curtailment, the Railway Ministry has recommended new fund-raising models to give boost to revenues by introducing new trains carrying labels of popular brands and commercial products.
Apart from that, a few trains will be named after big brands like Haldiram Express and Coca Cola Express. Prabhu may also propose to allow private investment in the Railways during the Rail Budget session on 26 February.
Keeping with Modi's Swachh Bharat mission, Prabhu will stress on bio-toilets on trains and stations while presenting the budget during the session.
He will also try to live up to the "Make in India" initiative and announce plans for manufacturing coaches to run at a 200 km per hour speed at its Chennai facility. Rail Minister will also propose redevelopment of about 100 stations, converting empty spaces on stations into marketing complex.
Modi's IT-friendly vision is also said to influence the 2015-16 budget as Prabhu is planning introduction of Wi-FI services on trains and the use of radio-frequency identification to track wagons, coaches and locomotives.
Prabhu is likely to introduce projects for solar-powered coaches, platforms and stations. Also, National Institute of Design (NID) is likely to be handed over the projects in order to improve the interiors of the coaches.
(Source: PTI, Ministry of Railways & Reuters)