The Indian smartphone market is not the best place to be if you are not up for a little extra competition. Brands like Xiaomi have taken the race to a new level, which has brands and OEMs getting out of their comfort zones to win buyers. It looks like we now have a new competitor in the sub-Rs 5,000 smartphone price range in India.
10.or (pronounced Tenor) is back with a third smartphone called 10.or D, which takes on budget rivals in India such as Xiaomi Redmi 5A. The handset was unveiled in India on Wednesday and its price was revealed on Thursday. Interested buyers will have to wait until January 5 for the sale of the handset.
10.or D is a worthy competitor in India's budget smartphone segment for more than one reason, but the biggest one is the price tag. The handset comes in two variants — 2GB RAM + 16GB storage and 3GB RAM + 32GB storage — costing Rs 4,999 and Rs 5,999, respectively.
IBTimes India got the higher-end variant of the phone for review, and here are our first impressions of the newly-launched phone.
Design
If you've seen the 10.or E and 10.or G, you'll find very close resemblance in 10.or D. The smartphone comes in a plastic unibody design with rounded corners for a better grip. A rear-mounted fingerprint scanner sits just below the primary camera and the speaker is placed on the rear bottom.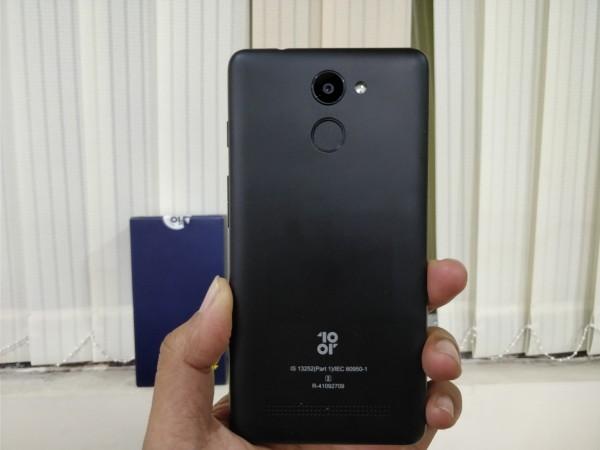 On the front, there's a 5.2-inch display, which is surrounded by bezels all around. The front camera is situated at the top next to an earpiece.
Surprisingly, there's no visible proximity sensor to turn off the screen during calls, but we will be testing for that in our review.
10.or D comes with on-screen navigation buttons even though there's enough place at the bottom bezel.
The SIM card tray with two micro SIM card slots and a dedicated microSD card slot is on the left and on the right are the power button and volume controls.
It is surprising to see the power button placed above the volume controls, but that's something all 10.or phones have — at least until now. A 3.5mm headphone jack is found at the top and a microUSB port sits at the bottom of the device.
The overall design seems decent, if not extraordinary.
Display
The 5.2-inch display is quite compact and offers a good grip on single hand use. The resolution is set at 1280x720 pixels, which is bright enough for day-to-day use both indoors and outdoors.
The screen also manages to keep fingerprint smudges at bay, but it cannot avoid them completely as we were able to attract some during our initial tests.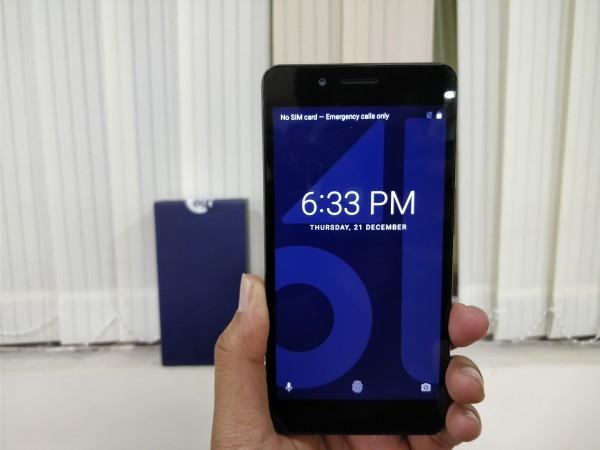 Performance
It's too soon to conclude on the performance of the device, but given the fact that it uses the Snapdragon 425 chipset and 3GB RAM with stock Android 7.1.2 Nougat, we have little doubt on any lags for minimal use.
We did not experience any crashes or issues with the UI, but we will be testing the phone under extreme conditions to see if 10.or survives or gives in. The 16GB storage in the base model and 32GB on the high-end one suffice, but the dedicated microSD card slot helps a lot.
Under the hood, the phone packs a 3,500mAh battery, which sounds impressive. The company is promising two-day battery, which we will be testing it over the next few days.
Fingerprint scanner
Given the phone's price, we were quite surprised to see a fingerprint scanner. So we quickly set up our biometrics to test out 10.or D's fingerprint scanner. We weren't too amazed or disappointed.
It took us longer than usual to set up and when it was done, it worked with great levels of accuracy.
The company claims 0.3 second to unlock, but we had noticeable lag while waking up the phone using the fingerprint scanner.
But even if 10.or D's fingerprint scanner is late, it is thorough.
Camera
The camera is subject to extensive testing before we conclude, but it doesn't seem like the phone has much to offer.
The 13MP rear camera does a decent job at capturing images, but don't go looking for details and true colours under artificial lighting. The selfies seem reasonable for a smartphone with a 5MP sensor.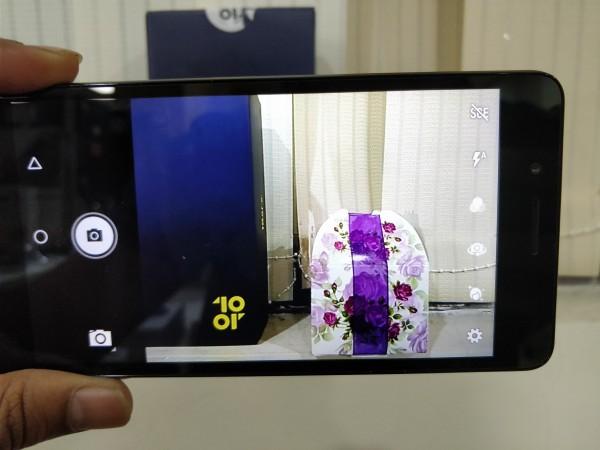 But it's worth considering the phone comes in an affordable package, so expecting a lot may seem a bit unfair.
Verdict
The 10.or D sale begins on January 5, exclusively on Amazon India. We will be completing our review of the phone before then, and will give our final verdict.
But our initial impressions of the 10.or D give us a good prospect for those who are upgrading from feature to smartphones.
Is it better than Xiaomi Redmi 5A and similarly-priced phones? We suggest you wait and find out in our upcoming review.