Controversial Islamic preacher Zakir Naik will not be deported to India, Malaysian Prime Minister Mahathir Mohamad said. The announcement comes just a day after India officially requested Malaysia for his extradition over his alleged role in multiple terror-related activities.
"As long as he is not creating any problem, we will not deport him because he has been given permanent residency status," Malaysian Prime Minister Mahathir Mohamad said at a news conference.
The radical television preacher fled India in 2016 to Malaysia. Only July 4, a Malaysian government source told NDTV that Naik would be deported immediately, and was to take a flight that very night.
Naik rubbished the reports, saying he had no plans of returning to the country until he was "safe from unfair prosecution".
The National Investigative Agency and RAW have been attempting to extradite Naik for a while but has so far failed to do so. A Red Flag Notice against him is yet to be issued. Interpol earlier cancelled the Red Flag Notice, forcing India to submit a fresh request, which is under process now.
Last year, the MEA revoked his passport in a bid to force him to return.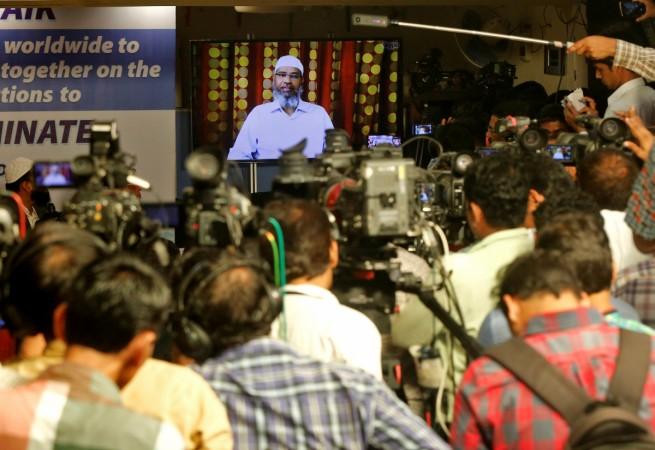 The Foreign Ministry said that Malaysian authorities were reviewing India's request, which was first made in January. "At this stage, our request is under active consideration of the Malaysian side. Our High Commission in Kuala Lumpur is in regular touch with the relevant Malaysian authorities in this regard," Ministry of External Affairs spokesperson Raveesh Kumar said at a press briefing.
The 52-year-old preacher is known for his hate speeches against LGBTQ community and has been accused of financing terrorism as well as inspiring people to join terrorist organisations. He is also been allegedly linked to the murder of Hindu Munnani spokesperson C Sasikumar, who was killed in 2016 by radicals.