Xiaomi, earlier this month, commenced the MIUI 10 beta programme for global testers. It is currently available to select devices - Xiaomi Mi 6, Mi MIX 2, Mi MIX 2S, Redmi S2, Redmi Note 5 Pro (India)/Redmi Note 5. It is expected to be made available to more phones in coming days.
For those unaware, MIUI 10 is based on the latest Android v8.1 Oreo update. In addition to the usual features developed by Google, Xiaomi has added its own value-added features. To provide a better perspective, we have listed all the key attributes and more about how it is expected to improve the user experience.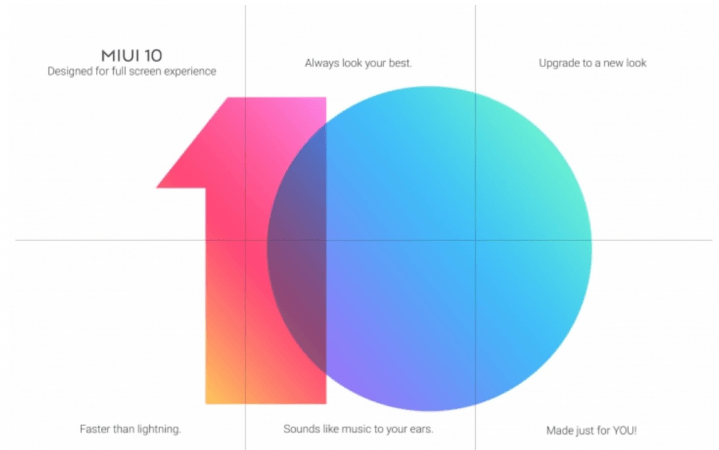 Xiaomi MIUI 10: All you need to know
Responsive and fast
The main theme of 2107-based MIUI 9 was 'Lighting Fast.' This time too, with MIUI 10, Xiaomi promises to make the device faster in terms of app loading and more. It also comes with two critical system optimisations - Lock-free critical path and Codependent prioritizing, which improves the overall responsiveness of MIUI 10 by 10 percent.

Designed for the full-screen experience
Now that the widescreen with 18:9 aspect ratio has become the norm in the smartphone industry and, more importantly, in all recent Xiaomi phones, MIUI 10 has been designed to enhance the user experience with its upgrades in design, speed, Artificial Intelligence software and sound.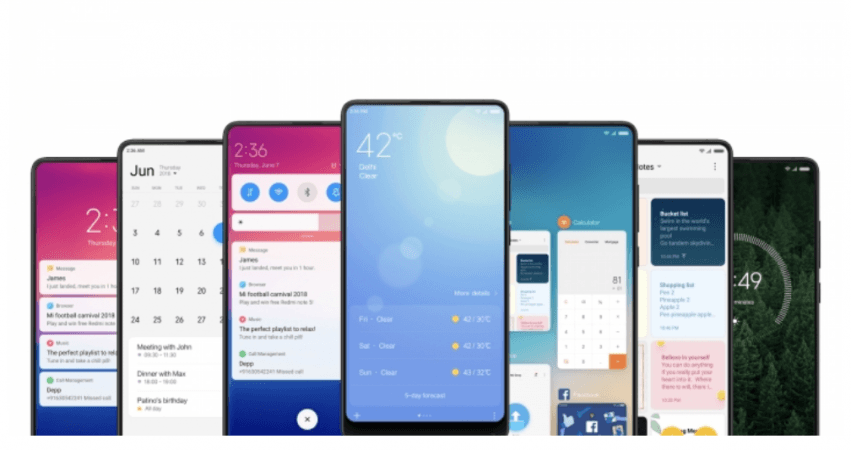 It is said to come with several easy-to-use full-screen hand gestures similar to the iPhone X, which does not possess any virtual buttons. It will also come with new features such as more content in the tiled taskbar and improved swiping gestures (up and down for switching tasks, sideways to end current task), users will be delighted at the boost it offers in multitasking efficiency.

With this, users will be able to seamlessly switch to full-screen gestures. Besides, MIUI 10 will provide a more productive experience with a completely redesigned Recent Apps menu showing up to 5 apps in one screen.
Single-lens portrait photos
Google Pixel 2, despite having a single lens, offers Bokeh blur effect. Thanks to machine learning capability, the image quality of the Google phone was on par with, if not better than rival branded devices with dual-camera. Fans and critics heaped praised at the efforts of the genius engineers of the company.
Now, Xiaomi has managed to offer a similar feature for its single lens camera phone with MIUI 10. All the eligible devices will get the AI Portrait photos on both the front and back cameras. With this feature, users can shift the focus between the foreground and the background to get the desired portrait shot.

Front camera:
Mi MIX 2/Mi 6/Mi 5s Plus/Mi 5s/Mi 5/Mi Note 2/Mi Max 2/Mi Max/Redmi Note 5(India)/Redmi Note 4(India)/Redmi Note 4X/Redmi Note 3/Redmi 5/Redmi 4/Redmi 4X
Rear camera:
Mi MIX 2/Mi 5s/Mi 5s Plus/Mi 5/Mi Note 2/Mi Max 2/Mi Max/Redmi Note 4(India)/Redmi Note 4X/Redmi Note 3/Redmi 5/Redmi 4/Redmi 4X.
Natural ringtones
With MIUI 10, Xiaomi brings a whole new system of sounds.
From notifications to audio feedback and ambient sounds from an app like the timer with nature-themed sounds like water droplets, rain, sand dunes in the wind on a desert, forest sound with waterfall effect, ocean waves and more - users will have an array of soothing tones to pick and choose from. The ambient sounds serve as a great substitute for the occasionally annoying sounds of notifications and calls.
MIUI 10 is also designed in a way that will reduce the aural clutter.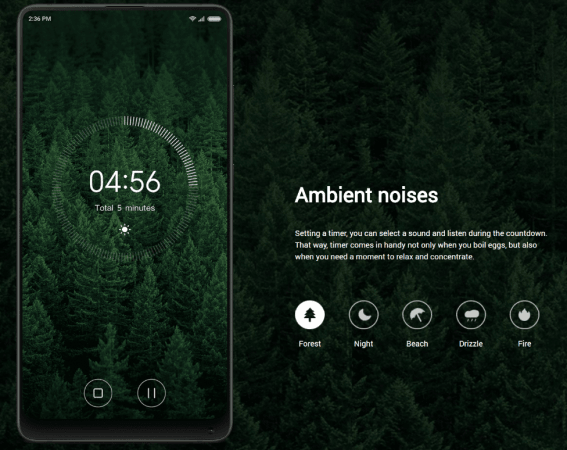 Customized for India
MIUI 9 came with a personalised theme for India including the pachanga calendar, festival-related wallpapers and more.
Now, the new MIUI 10 follows up the region-specific feature such as the camera app doubling up as a Paytm QR code scanner, a local service page in the inbuilt browser with full support for PWA (Progressive Web Apps) Additionally, the content-rich libraries of Mi Music and Mi Video ensure a great, entertaining and an ergonomic experience.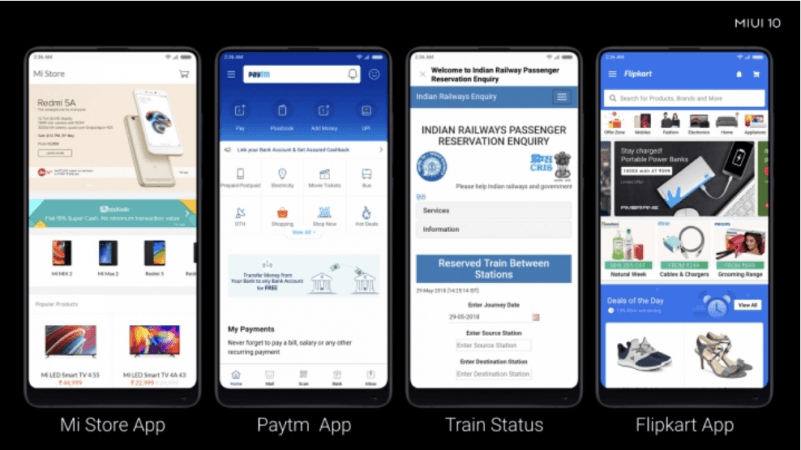 It also adds a quick menu tab to all business messages, which allows users to explore more about the service with a single tap.
List of devices eligible for Xiaomi MIUI 10:
Xiaomi has confirmed to release MIUI 10 ROM will be made available to Mi 8, Mi MIX 2S, Mi MIX 2, Mi MIX, Mi 6X, Mi 6, Mi 5, Mi Note 2, Redmi S2, Redmi Note 5, Mi Note 3, Mi 5X, Mi 5c, Mi 5s, Mi 5s Plus, Mi 4, Mi 4c, Mi 4S, Mi Max 2, Mi Max, Redmi 5, Redmi 5A, Redmi 5 Plus, Redmi 4, Redmi 4A, Redmi 4X, Redmi 3S/Redmi 3X, Redmi Pro, Redmi Note 5A, Redmi Note 4 (Qualcomm), Redmi Note 4X, Redmi Note 4 (MTK), Redmi Note 3 (Qualcomm).
Xiaomi MIUI 10 beta programme:
The MIUI 10 beta programme is already underway and is expected to go on for next two months. The devices it will be available to are - Mi MIX 2, Mi 6, Mi 5s Plus, Mi 5s, Mi 5, Mi 4, Mi 3, Mi Note 2, Mi Max 2, Mi Max, Redmi Note 5 India, Redmi Note 5 Pro, Redmi Note 5A, Redmi Note 5A Prime, Redmi Note 4 MTK, Redmi Note 4X, Redmi Note 3 Qualcomm, Redmi 5, Redmi 5A, Redmi 4, Redmi 4A, Redmi 3S, Redmi Y2, Redmi Y1 Lite and Redmi Y1.
Xiaomi MIUI 10 public version release:
Following the feedback from the testers, the company is expected to conduct one final test in late August. Once certain there are no more bugs and glitches in the software, they are expected to release it to the public en masse sometime around September.
Stay tuned. Follow us @IBTimesIN_Tech on Twitter and on Google News for latest updates on Xiaomi and MIUI 10 release schedule.