The Indian smartphone market is a strong platform for companies to grow. While Samsung has long dominated the market, Xiaomi has challenged the leader with a significant rise in the market share, beating Samsung for the second quarter in a row.
According to IDC report, Xiaomi led the Indian smartphone market with a total share of 30.3 percent in the first quarter of 2018. The Chinese manufacturer had dethroned Samsung as the largest smartphone company in India in Q4 2017. And now, the new lead widens the gap between Xiaomi and its closest competitor, Samsung.
Xiaomi's success in the first three months of 2018 is largely owed to the overwhelming demand for the Redmi Note 5 and Redmi 5A smartphones in India. Xiaomi also had a strong online presence, growing from 32 percent a year ago to 53 percent in the first quarter.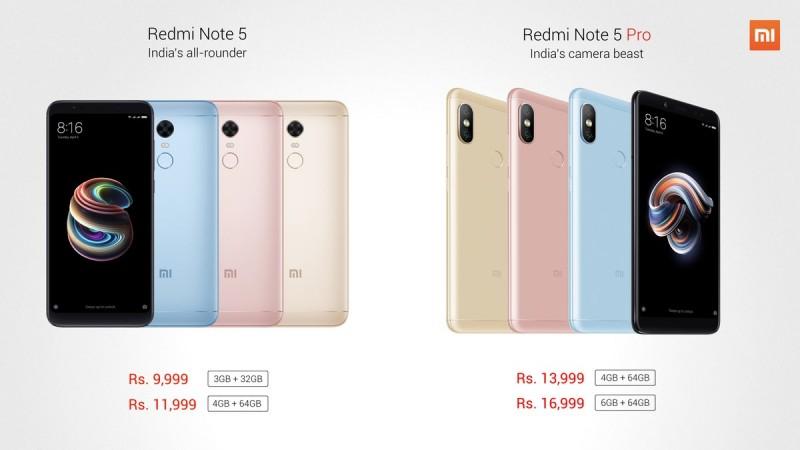 Acknowledging the success so far, Manu Jain, the global vice president of Xiaomi and Managing Director of Xiaomi India, said that the company will continue providing high-quality innovative technology to its users.
All the success which Xiaomi enjoys today is proof of the love we have received from millions of our Mi Fans. We are thankful to each and every one of them for putting their faith in us and we promise to work hard to retain it. Xiaomi will strive to deliver on its philosophy towards providing high-quality innovative technology at an honest price and bring the best of technology to everyone.
Following Xiaomi's lead, Samsung acquired a total market share of 25.1 percent. Oppo, Vivo and Transsion, the latter of which includes brands like itel and Tecno, trailed behind the global smartphone leader with 7.4 percent, 6.7 percent and 4.6 percent, respectively. But Samsung scored a big win in the premium smartphone segment with 77 percent market share, courtesy of strong Galaxy S9 series sales.
The overall smartphone market growth was recorded at 11 percent year-on-year to 30 million units in the first quarter. But the market remained almost flat compared to the previous quarter.
"IDC expects the smartphone market to continue its double-digit growth in 2018 with the popularity and focus on budget phones, efforts by ecosystem to make devices more affordable with finance schemes, aggressive offline expansion by key players and push by the online platforms driving this growth." Jaipal Singh, a senior market analyst at IDC India, said in a statement.
While the smartphone market growth was limited, the feature phones witnessed an impressive spike. The 4G feature phone market grew more than 50 percent quarter-on-quarter, a growth that is credited mainly to the JioPhone.
Reliance JioPhone alone acquired 38.4 percent market share, while Samsung came at a distant second with 10.4 percent. Transsion, Lava and Micromax followed the lead with less than 10 percent share each.