The lucrative Indian smartphone market has just witnessed a big shuffle in the brand rankings. South Korean tech giant Samsung, which had been on top for years, has now been dragged to the second position by a company that entered the market just three years ago. Well done, Xiaomi.
Latest reports released by Canalys and Counterpoint Research said that Xiaomi's localisation strategy to expand its channels in India, as well as effective marketing of its aggressively priced broader portfolio of devices, helped the brand dethrone Samsung for the first time ever in a quarter.
According to the Canalys report, Samsung's annual growth of 17 percent was not enough to help it maintain its lead as it managed to ship just over 7.3 million smartphones in the fourth quarter of 2017, accounting for 25 percent market share.
Xiaomi, on the other hand, shipped close to 8.2 million units during the three-month period, helping it claim 27 percent share of the Indian smartphone market. Three other Chinese brands, including Vivo, Oppo and Lenovo, rounded out the top five.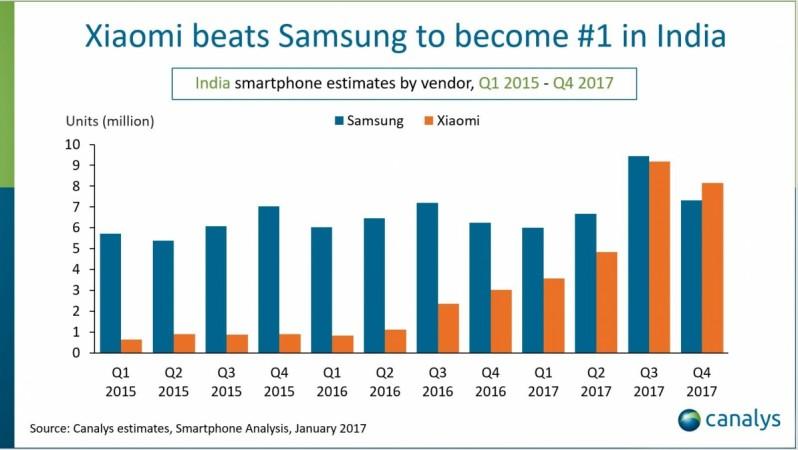 The Counterpoint Research report, meanwhile, attributed 25 percent market share to Xiaomi in Q4 2017, followed by Samsung with 23 percent share. While Xiaomi experienced a huge annual growth of 16 percent in its market share, Samsung suffered a slight decline of 1 percent over the same period in 2016.
During the second half of 2017, "Xiaomi was particularly disruptive with an aggressively-priced, broad portfolio taken to market with an effective channel expansion strategy," Tarun Pathak, Associate Director at Counterpoint Research, said in a statement, adding that the company's strategy helped it surpass Samsung for the first time ever.

"Multiple factors have contributed to Xiaomi's growth, but the key reason for its current success lies in the autonomy that it granted its Indian unit, letting it run the business locally. Localisation in channel strategy, marketing and products have been evident in Xiaomi's Indian operations," Ishan Dutt, Canalys Research analyst, said in a statement.
What also helped Xiaomi was Samsung's failure to transform its low-cost product portfolio, especially in the sub-Rs 15,000 segment in which Xiaomi outperformed it quarter after quarter. However, Samsung's "far superior R&D, and a better hold on the supply chain" are expected to help it make a comeback later this year.
"The power struggle between Xiaomi and Samsung will continue well into 2018, as Samsung revamps its low-cost portfolio and fights to take back the aspirational status it once held in minds of Indian consumers," Rushabh Doshi, Canalys Research analyst, said.
However, 2018 won't be an easy battlefield for Xiaomi as challenges are expected to get bigger in India and China, the world's largest two smartphone markets where the company has a considerable business.
"As Xiaomi's market share reaches saturation point in India, and the market continues to shrink in China, it must contend with slower growth for its smartphone business as it begins to expand in other countries," Doshi added.