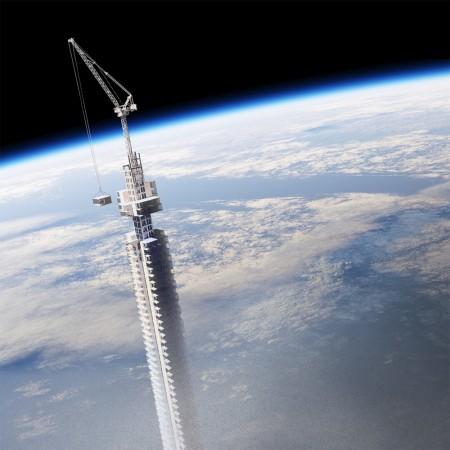 A design firm based out of New York has come up with a crazy idea very much out of the box...hell, out of the entire warehouse!
The plan is to construct the world's tallest skyscraper (or groundscraper, as it were) named Analemma. So far, so boring, but wait! The groundscraper will hang in the the air using cables attached to an asteroid, which will be repositioned in a geosynchronous Earth orbit.
Also Read: Can a river flow uphill? If it's in Antarctica, it looks like it certainly can!
The Clouds Architecture Office revealed online that the floating groundscraper will trace a figure-eight path over our planet's surface. The building will complete its 8-shaped orbit once every 24 hours.
The builders plan to use recycled water, and supply power to the structure with the help of solar panels. It has yet to be decided how people are going to get on and off the building, one image shows people using parachutes to get to the ground, from the groundscraper .
The ground floor of the building is likely to be used for business purposes and the quarters for sleeping will be constructed about two-thirds of the way up.
According to plans, this off-Earth groundscraper will reach a height of around 32,000 meters and be exposed an extra 45 minutes of sunlight.
The residents living on the topmost floors would require to wear a spacesuit as they would be close to the near-vacuum zone and temperatures would be as low as -40 degree Celsius.
"Harnessing the power of planetary design thinking, it taps into the desire for extreme height, seclusion and constant mobility. If the recent boom in residential towers proves that sales price per square foot rises with floor elevation, then Analemma Tower will command record prices, justifying its high cost of construction," a statement said.
The main cost is estimated to come from repositioning the space rock to which the skyscraper will be secured with cables.
NASA is a pioneer in constructing off-Earth buildings with its Asteroid Redirect Mission.
"I am not sure I would like to live in such a self-referential building, literally detached from the rest of the world," Carlo Ratti, director of MIT's Senseable City Lab and an architect noted for futuristic thinking stated in an email, NBC News quoted.
"Cities are built to bring humans together, while a building such as the Analemma tower would do the opposite," Ratti stated further.
Clouds Architecture Office joined hands with NASA recently and to plan and build a Martian habitat called Mars Ice Home. The project will come up in Dubai near the Burj Khalifa, the world's tallest building.