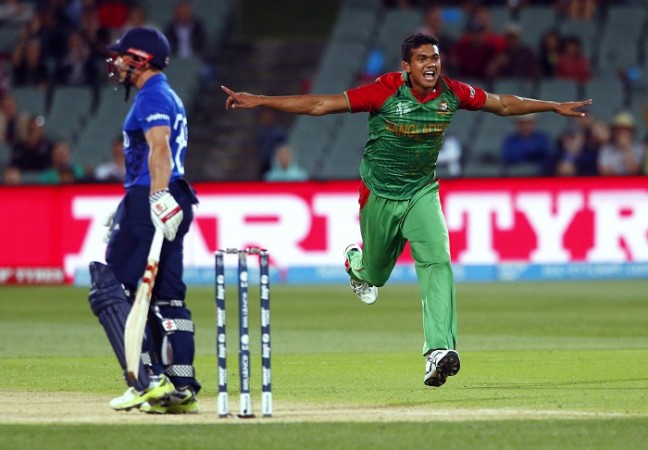 Bangladesh captain Mashrafe Mortaza broke down at a press conference, the team management were furious, the Bangladeshi fans livid - all this over Taskin Ahmed being banned by the ICC for a suspect bowling action.
Now, the Bangladeshi fans have more reasons to worry after the ICC upheld the ban handed to the fast bowler.
The BCB had appealed to World Cricket's governing body against the decision to ban Taskin, Monday.
The Judicial Commissioner Michael Beloff QC announced the decision, Wednesday after a rigorous hearing that lasted for several hours.
"Taskin exercised his right to request an expeditious review of his case by a Judicial Commissioner. The hearing was conducted by Michael Beloff QC over a tele-conference call that lasted several hours and in which numerous legal challenges were made on behalf of the player," ICC said in a media release.
"Having carefully considered those arguments and the responses of the ICC, Mr Beloff has now notified all parties concerned of his decision that Taskin's suspension from bowling in international cricket shall be upheld and indicated that a written reasoned decision will be provided in due course."
ICC stated that after Taskin remodels his bowling action, he may apply to the ICC for reassessment, which means the fast bowler, who is still with the Bangladesh team for the World T20, will not be available for the match against India, and, most probably, the game against New Zealand as well.
"In the meantime, Taskin may, at any time following appropriate remedial work, apply to the ICC for a re-assessment of his bowling action, which shall be carried out in the same manner as the initial independent assessment," the media release read.
"In the event of such re-assessment concluding that Taskin has remedied his bowling action and that his elbow extension is within the permissible level on all of his standard deliveries, his suspension shall be lifted and he shall be permitted to resume bowling in international cricket."