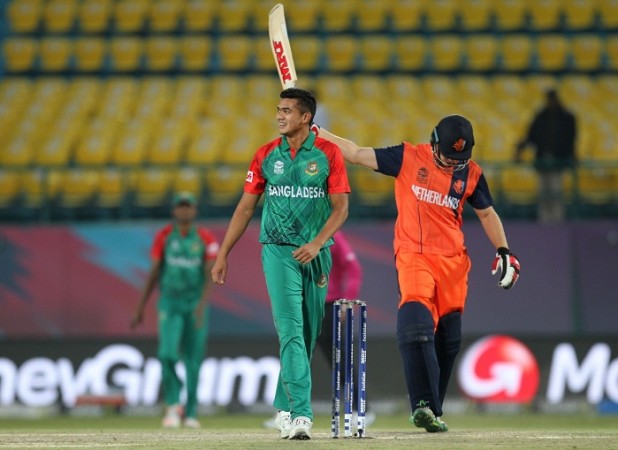 Bangladesh cricket received a major setback Saturday when key bowler Taskin Ahmed was suspended from bowling in international cricket for a suspect bowling action. The Bangladesh Cricket Board (BCB) is not happy with the International Cricket Council's (ICC) decision.
The BCB is not convinced about Taskin's suspension at all, and president Nazmul Hassan has personally appealed to the ICC to reconsider the decision. The ICC will respond after discussing it with its legal team.
"We are not convinced about Taskin as of now. We don't have any reason to be satisfied with the report," ESPN Cricinfo quoted Hassan as saying Sunday.
"And that's disappointing, so we have appealed to the ICC. We have a few grounds and we have said these things according to logic. Only the ICC can withdraw the ICC's decision, which is why I am talking to the ICC directly. It won't be right to disclose what we presented as our logic. I can tell you that we have done everything possible.
"I read the [ICC's independent assessment] report today [sunday] morning and instantly called ICC CEO Dave Richardson and chairman Shashank Manohar, who said they will respond to us after talking to their legal team."
Taskin opens the bowling for Bangladesh, and has been a huge success with the white ball in recent matches for the side. In Bengladesh's previous World T20 match against Pakistan as well, Taskin picked up two wickets despite the team's loss.
Taskin is such an integral part of Bangladesh's World T20 squad, and the BCB want him cleared straightaway to play in the competition. Had it not been for the ongoing World T20, they might have taken the legal way, which would have been lengthy.
"If we take the legal way, we can forget Taskin playing in the World T20. I don't think it will be solved any time in the future. It would be a lengthy procedure but as of now I am trying to avoid that way, and trying to see if something can be done immediately through a shortcut. It's very difficult, but I have not left hope as yet. I feel that there is a slight possibility for Taskin to join us as soon as possible," Hassan said.
"We have never heard or seen a decision getting immediately changed by the ICC but regarding Taskin even if that happens, I won't be amazed. I am hopeful."
As of now, Bangladesh, who will Monday face Australia in Bengaluru, are set to miss the services of Taskin, who is still waiting to see if the ICC lifts his suspension.