The world is bowing down to the magnificent presentation put by Wonder Woman at the box office. As the movie surpasses records set by previous DCEU and Marvel movies with every passing day, the crew of the blockbuster movie are revealing some insights into what went into making the Gal Gadot starrer.
Apart from producing and writing the movie, Zack Snyder has played a greater role in the Patty Jenkins directorial. Not only did he help set up the movie's plot via Batman v Superman: Dawn of Justice, he had helped in setting the tone of the action sequence in the movie.
Also Read: Justice League reshoot images surface online to tease spoilers about the DCEU movie
Discussing the making of the movie, film's cinematographer Matthew Jensen reveals that Patty Jenkins and he drew inspiration from Zack Snyder's aesthetics. "Patty [Jenkins] loves Zack's style and his use of slow-mo. She thought it was appropriate to show Wonder Woman's grace and athleticism. Slow-mo was the only way to capture that. It's not just whatever looks cool or if it's a neat explosion. She's trying to tell stories within the action," he told Inverse.
The film was shot using Panavision's Millennium XL camera, "which is decidedly old-school." The camera helped bring the authentic shades of the early 1900s. The filmmaker also revealed that they used digital cameras like the Arri Alexa (for underwater scenes) and a Phantom for the slow-motion action.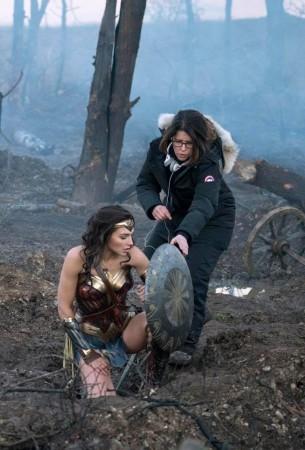 "Patty and I always talked about that moment in the trench, we wanted to feel rising tension until the moment she climbs out, and there would be this huge relief," the Game of Thrones cinematographer shared. He went on to share, "Patty wanted to make a colorful movie, and so it was my job to deliver that for her. I tried to find this balance in the color of having a cooler cyan-y color in the shadows and a lot of warmth in the highlights."
Also Read: Why Wonder Woman might get Oscar nominations but not win Best Picture
Apart from inspiring Jenkins with the filming, Snyder was also spotted in the film doing a cameo. He was seen in an epic battle scene that introduced Wonder Woman to the Man's world.
Gal Gadot and a few other Wonder Woman cast will be seen reprising their roles in Justice League releasing this November.