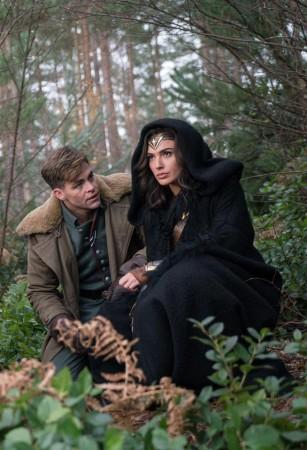 Wonder Woman 2 starts filming this month in Washington DC. After Patty Jenkins confirmed that the superhero is headed to US for the sequel, Gal Gadot touched down the US city this week and shared a video announcing her arrival.
But she was not the only Wonder Woman cast member spotted there. Onlookers reveal that they spotted Chris Pine near the location sets of Wonder Woman 2. Spoiler alert: Pine's character Steve Trevor died in the first Wonder Woman movie.
So why is he "coincidentally" near the sets of Wonder Woman 2? There could be two explanations to it:
Flashbacks: It is obviously not easy for Diana to move on from her first love. So, there could be scenes where she is seen reminiscing moments spent with Steve. The duo did spend a lot of time together and there were several special moments the couple shared that weren't featured in Wonder Woman.
A new character played by Pine: While Steve is dead, there could a possibility that Diana could have come across a person who looks exactly like Steve but isn't him.
While the world goes crazy speculating the possibilities, sources told Page Six that the actor was spotted dining with two of his friends at Le Diplomate sometime last week. A video featuring was released last week on Instagram (and quickly taken down) claimed that the person in the video was Pine.
Meanwhile, DC Entertainment President and Chief Creative Officer, Geoff Johns teased Wonder Woman 2 when he posted a cryptic photo which featured "WW84." This added to the speculations that Wonder Woman could be set in the Cold War period, 60 years after World War I.
Apart from Gadot, the new film features Kristen Wiig as the villain, Cheetah. Wonder Woman is slated to release in November 2019.