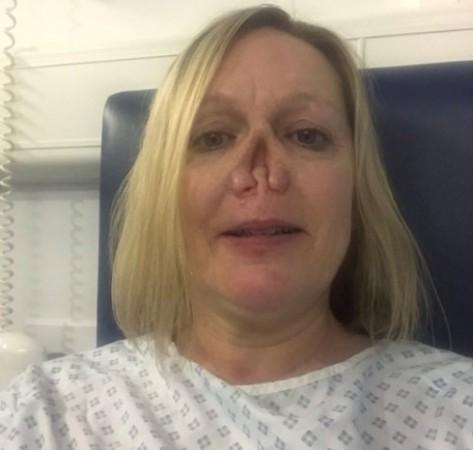 This Morning viewers were left stunned when a 48-year-old British woman removed her prosthetic nose live on air without any prior warning. Not only were the viewers, the hosts -- Ruth Langsford and Eamonn Holmes -- were also shocked.
Jayne Hardman suffers from a rare disease, granulomatosis with polyangiitis (GPA), which causes inflammation of the blood vessels in the nose, sinuses, ears, lungs, and kidneys.
During the show, the mother-of-two was explaining how her prosthetic nose works and why her nose had collapsed.
According to The Sun, Hardman had first noticed that something was wrong with her nose when her pet dog jumped and knocked her nose in 2012. She suffered swelling for 6 months before it started to collapse. Eventually, she was diagnosed with GPA.
After a lot of struggle, she received a prosthetic nose that is cleverly attached by a magnet. "It's just a nose that I take on. And off. It's on magnets," Hardman said during her appearance on This Morning.
You can watch the video here.
When the This Morning host Eamonn asked her: "You're not worrying about it coming off?" she replied, "I have sneezed it off once. So, I do tend to hold my nose now."
"I take it off at night because they recommend you don't sleep in it in case you knock it. And I put a plaster across my nose because I'd hate for any spiders to get down there," she added.
She further explained that the creator of her prosthetic nose was a doctor at Birmingham QE.
The brave woman has left fans in awe as many took to Twitter to praise her for sharing her inspirational story and raising awareness of the disease.
One user wrote: "I am ecstatic that she has found a way forward and not let this disease get the better of her! What an inspiration."
A second said: "Incredibly brave lady #Jayne for speaking out and bringing crucial awareness to such a devastating disease."
I have this disease and this needs to be promoted more to make the medical community aware of the symptoms before this happens.

— Phil Eddy (@Janner1) April 10, 2018