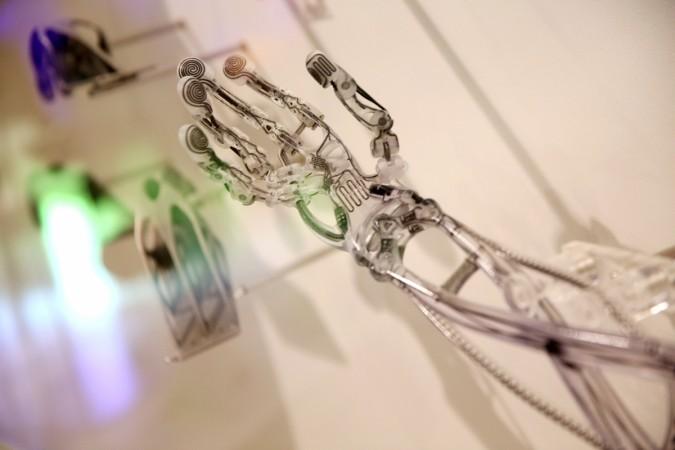 A US high school student found the best gift he could ever give his war-veteran father: a new arm with which he can play video games. Missouri teenager Robbie Frei, who wants to study robotics in college, built a special prosthetic arm for his father using 3D-printing technology in just three months.
The St Louis-resident wanted to give his father back the full use of his arms after he was injured in a military attack in Iraq in 2003. So he made the 3D-printed arm his thesis project at Priory High School, reported Fox St Louis.
Robbie's priority was to ensure that his dad was not left out of the video-gaming activities at their house. He first built an arm adapter for the Nintendo Switch video console to make the arm video-game friendly.
"When my dad was injured in the Marines he wasn't able to play video games with us for about 10 years, and after I created that 3D printed adapter he was able to play with us full speed," Frei told Fox St Louis.
After this, he went on to make a custom-scanned prosthetic by keeping his dad's left hand as the reference. He then mirrored it to make it the right hand, which now has the capability to even throw a ball.
After many attempts, Robbie was able to build all the parts on a 3D-printer in a way that his father would be in control of the finger movements of the arm.
The teen is a National Merit finalist and his interest in robotics is admired by his friends and family, who have great hopes for his future.
"He knows how to get projects done and comes up with amazing things," said robotics advisor Derek Ward. "So, just to watch him go from a seventh-grader to a 12th-grader, (I'm) not surprised he can pull something like this off."
Frei believes his skill in robotics comes from his interest in mathematics as it taught him to think about a situation as a challenge and come up with the best possible solution.
"As soon as I start to test different alternatives I start to narrow in on something," said Frei, who believes he is more of a discoverer than an inventor.