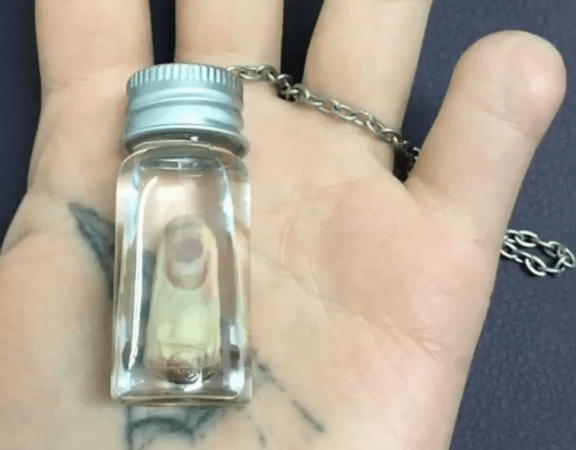 People's idea of what looks 'cute' can certainly get a little bizarre if their imagination manages to run away too wild, but this seems a bit too out of hand. Torz Reynolds, who is passionate about piercings, sliced off her own finger and turned off the severed bit into a pendant.
On Valentine's Day, she did the honors with bolt cutters, on Valentine's Day after apparently wanting to do it for a decade, as Metro.uk reported.
The 30-year-old shared that she had kept the stump in the freezer next to a bag of peas for exactly a year – upon completing which, she decided to mark the occasion by turning the frozen finger into a pendant. All it took was a glass vial filled with alcohol solution to preserve the frozen finger, and voila!
The Colchester, Essex resident said: "I forgot it [the finger] was there. It was in the freezer next to my frozen peas. You don't want to waste it so why not turn it into a necklace?
Torz's boyfriend Xav however, pulled a rather thoughtful move and presented her with a collection of tiny hats to dress up the now stumped pinky finger – which she affectionately calls 'Wiggles.'
"I made the necklace on Wiggles' birthday (February 14)," said Torz. "I'll pick and choose where I wear it – I wouldn't wear it at work – but it will definitely be a new favourite in my free time. I thought a necklace would be the easiest thing to make and I wanted to do something to mark Wiggles' first birthday."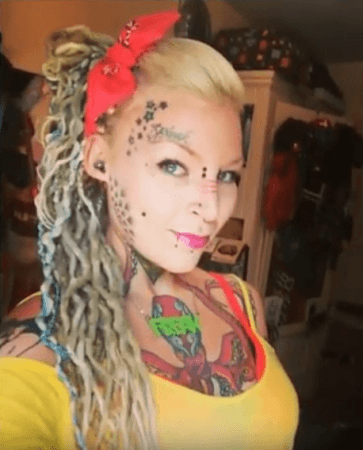 Playing dress-up with Wiggles, Torz decorates the stump with one of the entire set of 15 kids' toy hats – the collection panning almost everything, from a Stetson, a Viking helmet, a hard hat and a red baseball cap.
She said: "The hats were a present from my boyfriend for Wiggles' birthday. I thought it was brilliant, they look like they're the Village People. A lot of people have said they're awesome – everyone knows I don't take anything seriously."
Torz mentioned that the inspiration to chop off her finger was drawn from her friend who had previously done it. She would often bend the finger backwards to check if she could live without it. "I thought it was really cute. I couldn't stop thinking about it and decided to do it," she said.
"Xav and I had a nice dinner and then I chopped it off, I numbed it first so it wasn't too bad. I wasn't sure if I could live without it but I can. It hasn't changed anything – I love it, it's so cute.
"A lot of people will go and get it done professionally but I didn't want to go through surgery. My partner just said, "as long as you're happy that's all that matters". My family didn't understand it but didn't mind as long as I was safe."
If you think that's odd or peculiar, Mirror.uk reported that post splitting up with her ex for cheating on her in 2014, Torz had actually cut off a tattoo on her forearm and posted it to him.
"I packaged it up so it really did look like a present," she said. "I even used different handwriting so he'd have no idea that it was me. I can't imagine what his reaction was. I wish I could have been there to see it."