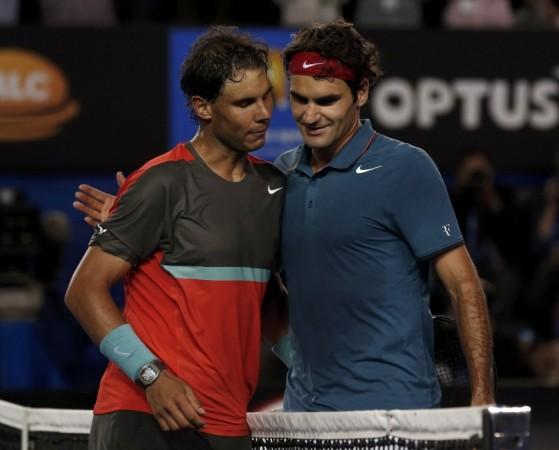 Eight-time Wimbledon champion Roger Federer will face arch-rival Rafael Nadal in a semi-final of the Wimbledon 2019 at the All England Club on July 12. Much to the delight of the tennis fans, the duo is going to revive their rivalry at the All England Club after they met in the historic final of 2008 edition of the tournament.
Nadal leads the head to head contest by 24-15 and in the semi-final of the recently concluded French Open he beat Federer with sheer dominance. The Swiss legend tried his level best but could not match up to the level of the Spanish giant and lost 3-6, 4-6, 2-6. This time around he is playing on grass, where he is the undisputed king, so he would be looking forward to avenge the loss.
Preview
After a shaky start in the first round against Lloyd Harris, the Swiss legend's form started getting better as the tournament progressed. In the quarter-final clash against Kei Nishikori, the 37-year-old had a major hiccup in the first set as the Japanese broke him once and won the set. But after the first set was over the audience experienced vintage Federer play as he won the match 4-6, 6-1, 6-4, 6-4. He is definitely the biggest contender to lift the coveted trophy but has got his biggest hurdle in front of him in the semi-final. It will be interesting to see how the ageing Federer plays against his slightly younger compatriot.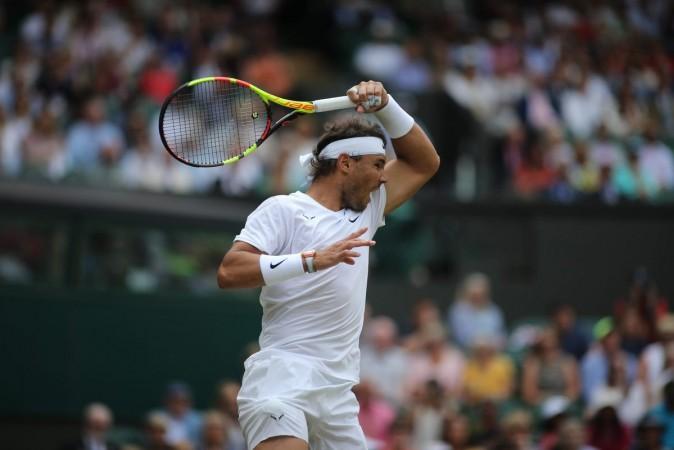 On the other hand, King of Clay, Rafael Nadal, after winning a hard-fought match against Nick Kyrgois, cruised through third-round beating Frenchman Jo Wilfred Tsonga in straight sets. He defeated Joao Sousa in the fourth round to set up a quarter-final date with American giant Sam Querrey. After a little bit of resistance from Querrey in the first set, Nadal did not let his opponent take hold of the game and beat him convincingly in straight sets. The score-board read 7-5, 6-2, 6-2 in favour of Nadal. The Spanish legend got better with every game he played in the tournament. He is also a major contender to lift the coveted trophy.
All over the world, tennis fans have been waiting for another 'Fedal' clash for a long time at the All England Club and the two legends have finally obliged. For all we know, this may be the last time the duo will meet at Wimbledon.
Schedule, global TV listings, live streaming and where to watch in India
Roger Federer-Rafael Nadal contest is supposed to get underway at 4 PM local time and 7.30 PM IST.
The match will be telecasted in India on Star Sports and Star Sports HD. Internet users can watch live streaming on Hotstar. The official global TV listings are below:
BROADCASTER
TERRITORY
1TV (C-M-C Agency)
NORTH MACEDONIA
ARQ (NOVA/CET 21/TV MARKIZA)
CZECH REPUBLIC & SLOVAKIA
BBC
ENGLAND, SCOTLAND, WALES, NORTHERN IRELAND
beIN SPORTS
EX: FRANCE, MONACO & FRENCH OVERSEAS TERRITORIES, NON EX: ANDORRA, MAURITIUS, MADAGASCAR, FRENCH SPEAKING SWITZERLAND
beIN SPORTS
ex: BAHRAIN, IRAN, IRAQ, LEBANON, OMAN, PALESTINE, QATAR, SAUDI ARABIA, SYRIA, UAE, YEMEN, ALGERIA, EGYPT, LIBYA, MOROCCO, TUNISIA
NON-EX: CHAD, DJIBOUTI, MAURITANIA, SOMALIA, SOUTH SUDAN, SUDAN
BELARUS 5
BELARUS
CANAL PLUS AFRIQUE
BENIN, BURKINA FASO, BURUNDI, CAMEROON, CENTRAL AFRICAN REPUBLIC, COMOROS, CONGO, DEMOCRATIC REPUBLIC OF CONGO, EQUATORIAL GUINEA, GABON, GUINEA BISSAU, GUINEA CONAKRY, IVORY COAST, MALI, NIGER, RWANDA, SENEGAL, SEYCHELLES, TOGO, CHAD, DJIBOUTI, MADAGASCAR, MAURITANIA, MAURITIUS, ETHIOPIA
CCTV5
CHINA
CTV/TSN
CANADA
CYTA
CYPRUS
EIRCOM
IRELAND
ESPN
UNITED STATES
ESPN LATAM & ESPN LOCAL CHANNELS
SOUTH AMERICA - ARGENTINA, ANTARCTICA, BOLIVIA, CHILE, COLOMBIA, ECUADOR, PARAGUAY, PERU, VENEZUELA, URUGUAY,CARIBBEAN - MEXICO, BELIZE, COSTA RICA, EL SALVADOR, GUATEMALA, HONDURAS, NICARAGUA, PANAMA, BAHAMAS, BERMUDA, TURKS AND CAICOS, TRINIDAD AND TOBAGO, ST. VINCENT, ST BARTHELEMY, ST LUCIA. ST KITTS AND NEVIS, MONTSERRAT, MARTINIQUE, JAMAICA, HAITI, DOMINICAN REPUBLIC, GUADELOUPE, GRENADA, DOMINICA, CAYMAN ISLANDS, BRITISH VIRGIN ISLANDS, BARBADOS, BONAIRE, CURACAO, FRENCH GUIANA, GUYANA, ST MAARTEN, SURINAME, ARUBA, ANTIGUA AND BARBUDA, ANGUILLA, ASCENSION ISLAND, FALKLAND ISLANDS
EUROSPORT
BELGIUM, NETHERLANDS, BALTICS, ALBANIA, BOSNIA-HERZEGOVINA, CROATIA, KOSOVO, MACEDONIA, MONTENEGRO, SLOVENIA, SERBIA, BULGARIA, ROMANIA, HUNGARY, FINLAND, NORWAY, SWEDEN, MOLDOVA, ARMENIA, RUSSIA, UKRAINE, LATVIA, LITHUANIA, ESTONIA, ICELAND, TURKEY, AZERBAIJAN, GEORGIA, KAZAKHSTAN, KYRGYZSTAN, TAJIKISTAN, TURKMENISTAN AND UZBEKISTAN.
FOX ASIA
PAN-ASIA - BRUNEI, CAMBODIA, CHINA, EAST TIMOR, HONG KONG, GUAM, INDONESIA, LAOS, MACAU, MALAYSIA, MICRONESIA, MONGOLIA, MYANMAR, PAPAU NEW GUINEA, PHILIPPINES, SINGAPORE, SOUTH KOREA, NORTH KOREA, TAIWAN, THAILAND, VIETNAM
FOX SPORTS
AUSTRALIA
GLOBOSAT
BRAZIL
GO MULTIPLUS
MALTA
HRT
CROATIA
JTBC
KOREA
KANAL 12
ESTONIA
MOVISTAR + / TELEFONICA
ex. SPAIN non ex. ANDORRA
NOS
NETHERLANDS
NHK
JAPAN
NOVA/FORTHNET
GREECE
POLSAT
POLAND
RTCG (FTA)
MONTENEGRO
RTRS (FTA)
BOSNIA & HERZEGOVINA
RTS
SERBIA
RTSH
ALBANIA
SEVEN
AUSTRALIA
SKY DEUTSCHLAND
ex GERMANY & AUSTRIA non ex LIECHENSTEIN, LUXEMBOURG, SOUTH TYROL
SKY ITALIA
ex ITALY, VATICAN CITY, SAN MARINO, non.ex SWITZELRAND
SPORT TV
PORTUGAL
SPORT 5
ISRAEL
SPORTKLUB
FORMER YUGO
SPORT 24
INFLIGHT
SRG
SWITZERLAND
STAR INDIA
INDIA, BANGLADESH, BHUTAN, NEPAL, PAKISTAN, SRI LANKA, MALDIVES
SUPERSPORT
SOUTH AFRICA, ANGOLA, BENIN, BOTSWANA, BURKINA FASO, BURUNDI, CAMEROON, CAPE VERDE, CENTRAL AFRICAN REPUBLIC, COMOROS, CONGO, DEMOCRATIC REPUBLIC OF CONGO, EQUATORIAL GUINEA, ERITREA, ETHIOPIA, GABON, GAMBIA, GHANA, GUINEA, GUINEA-BISSAU, IVORY COAST, KENYA, LESOTHO, LIBERIA, MADAGASCAR, MALAWI, MALI, MAURITIUS, MAYOTTE, MOZAMBIQUE, NAMIBIA, NIGER, NIGERIA, REUNION, RWANDA, SAO TOME& PRONCIPE, SENEGAL, SIERRA LEONE, SEYCHELLES, SOCOTRA, ST HELENA & ASCENSION, SWAZILAND, TANZANIA, TOGO, UGANDA, ZAMBIA, ZIMBABWE, ZANZIBAR,
TDM
MACAU
THE TENNIS CHANNEL
UNITED STATES
VTV Cab
VIETNAM