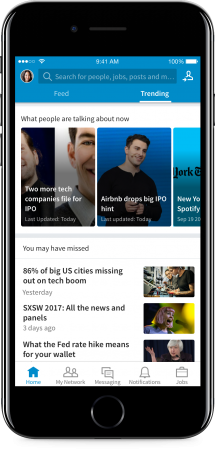 World's largest professional network LinkedIn is here to keep its more than 400 million users engaged and spend more time on the site by suggesting topics that they might find interesting. It has launched a new feature called Trending Storylines to provide its users a window to go deeper into the topics of their interest, which will in turn expand its horizon in advertising department.
Trending Storylines curates interest-based feeds that provide developing stories to users with an aim to help them discover and discuss news, ideas, and diverse perspectives from professionals, publishers and editorial voices.
Also read: Microsoft's $26.2 billion acquisition of LinkedIn cleared by EU commission
"Over the past year, we have completely rebuilt the LinkedIn Feed experience. We redesigned it from scratch so you can fully curate your professional experience to keep you informed on top conversations from people you are following and your connections," said LinkedIn in a statement.
It went on to say that the company, which has been acquired by Microsoft for $26.2 billion in June 2016, has seen over 40 percent increase in year-over-year engaged feed sessions weekly and "referral traffic to some of our top publishers on LinkedIn has doubled or tripled in that same time range."
The Trending Storylines helped the company in engaging with the users better as it feeds personalized trending stories based on what the site knows about them like their profession, helps users discover, learn and explore more about the story being discussed within each storyline, and helps the members see a perspective shared by a renowned healthcare expert, an article in a top medical magazine, or a similar post shared by someone you follow. You can also join the conversation through the hashtags created for each story.
LinkedIn uses algorithms and its editorial team to bring Trending Storylines to its users. The users will also be able to follow people and interesting topics within storylines.