Updates
1.05 a.m. IST: RIL AGM concluded.
Read: How to book a Jio Phone for free? All you need to know
12:50 p.m. IST: Ambani sets three main long-term goals, which he is certain of achieving in the next decade. Check those optimistic goals below: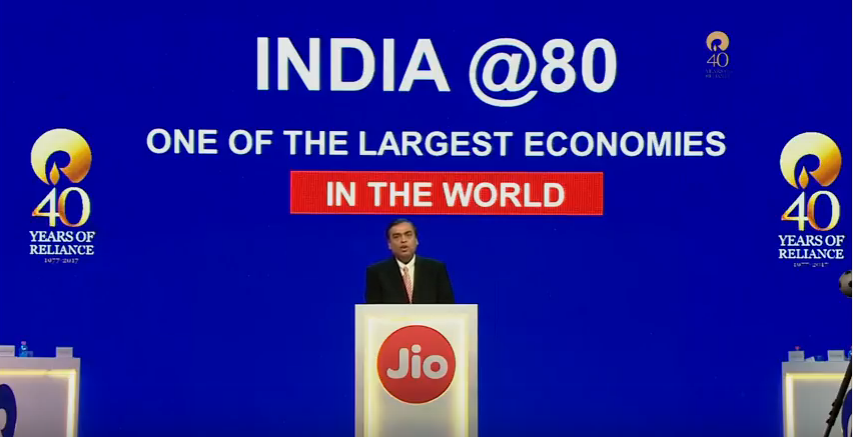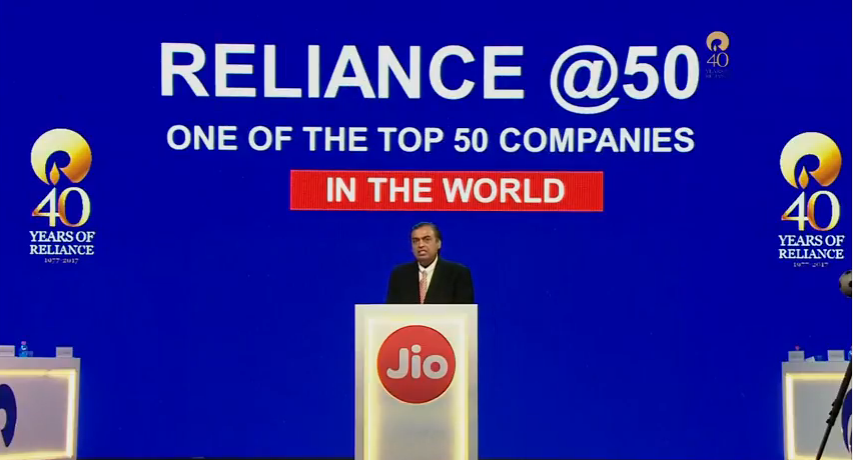 12:30 p.m. IST: Ambani highlights business earnings and investments. Below are the key points:
12:08 p.m. IST: A special tribute to Dhirubhai Ambani was given during the meeting. "Dhirubhai lives in our hearts for eternity," Mukesh Ambani said, highlighting some of the greatest moments of the founder in a brief video tribute.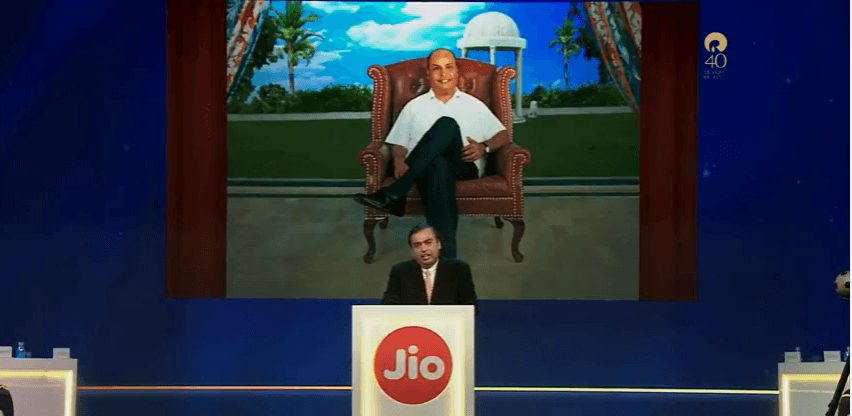 12.06 p.m. IST: Ambani concludes RIL AGM by thanking everyone!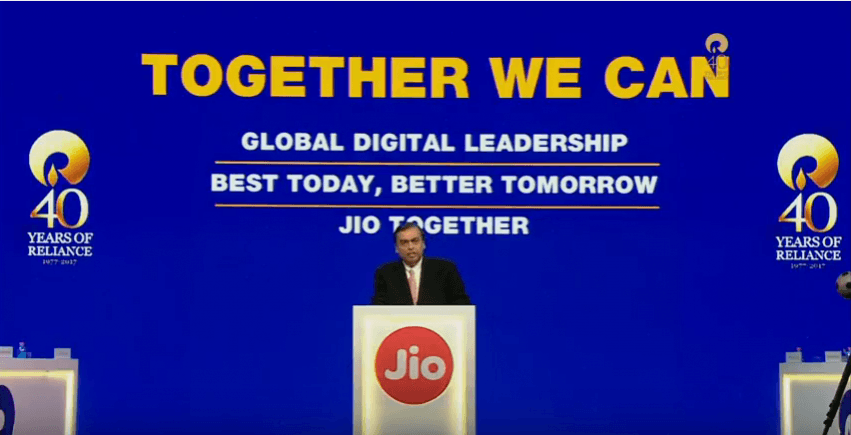 12:03 p.m. IST: Ambani also revealed that the company is well in track to bring optic fiber FTTH broadband.
12.01 p.m. IST: Pre-booking for Jio Phone will be available 24 August. It will be available to all September onwards. All Jio Phones will be made in India.
11.58 a.m. IST: Jio Phone buyers will have to deposit Rs. 1,500, which will be refundable after three years. Availability starts August 15 on the 70th year of India's Independence Day for beta testers.
11:56 a.m. IST: Jio Phone will be available for buyers for Rs. 0. Free of cost.
11:55 a.m. IST: RIL AGM highlights:


11:53 a.m. IST: Rs. 24 and Rs. 54 sachets will give 2 days and 7 days recharge options for those who cannot commit to Rs. 309 recharge for Jio TV access.
11:51 a.m. IST: Jio Phone will replace cable TV. With a special TV cable, you can connect Jio Phone to any TV (not just smart TV), including CRT TVs, and enjoy Jio entertainment content seamlessly. For this, viewers must recharge Rs. 309 per month.
11:50 a.m. IST: Jio Dhan Dhana Dhan offer will be available on Jio Phone at Rs. 153.
11:46 a.m. IST: Tariffs for Jio Phone:
Free voice for life
Unlimited data access starting August 15 at Rs. 153 a month.
11:45 a.m. IST: Jio Phone will get advanced NFC support for one-tap operations.
11:42 a.m. IST: Long press the number 5 button to send a distress message along with the location to selected contacts.

11:39 a.m. IST: Jio Phone, being a feature phone, has incredible voice command support and internet, and includes all Jio apps for entertainment. Voice commands work for playing music and to launch apps as well.
11:37 a.m. IST: Jio Phone is a 100 percent 4G VoLTE feature phone, supports 22 regional languages, and supports voice commands.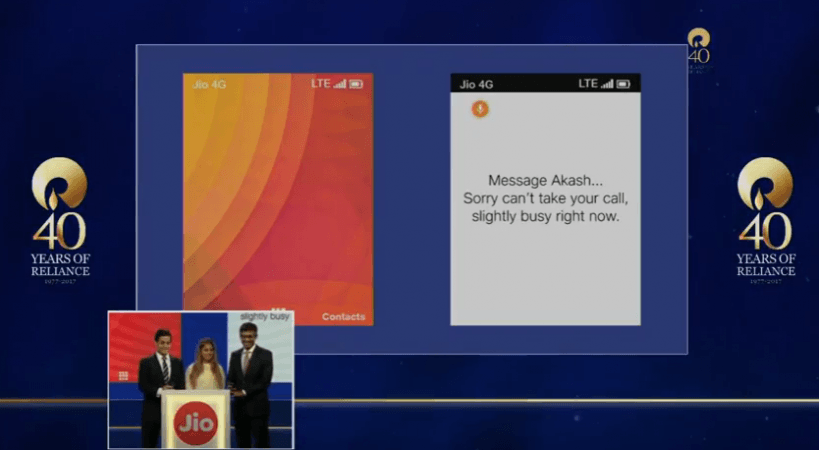 11:35 a.m. IST: Ambani launches "India ka smartphone" Jio Phone.


11:33 a.m. IST: Smartphones, even with Rs. 3,000 – Rs. 4,500 price range, remain unaffordable in India.
11:32 a.m. IST: Ambani addresses the challenges of data affordability for feature phone users.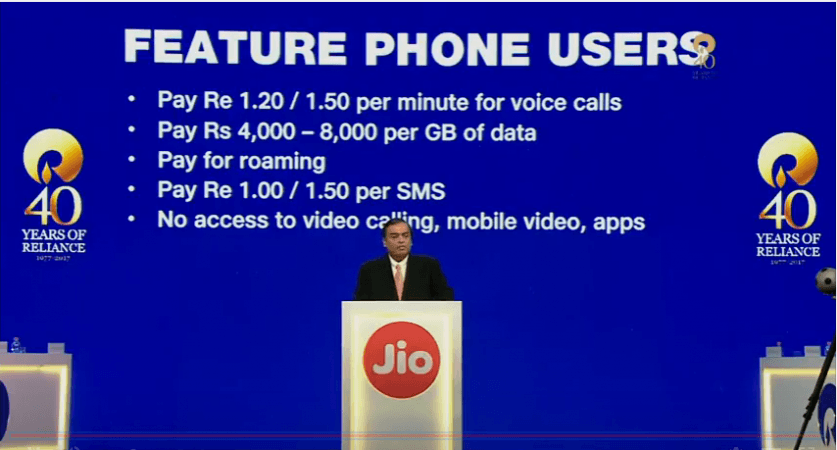 11.30 a.m. IST: Jio will cover 99 percent of the country's population.
11:28 a.m. IST: Ambani is committing to end the digital disempowerment and unfairness. Any guesses?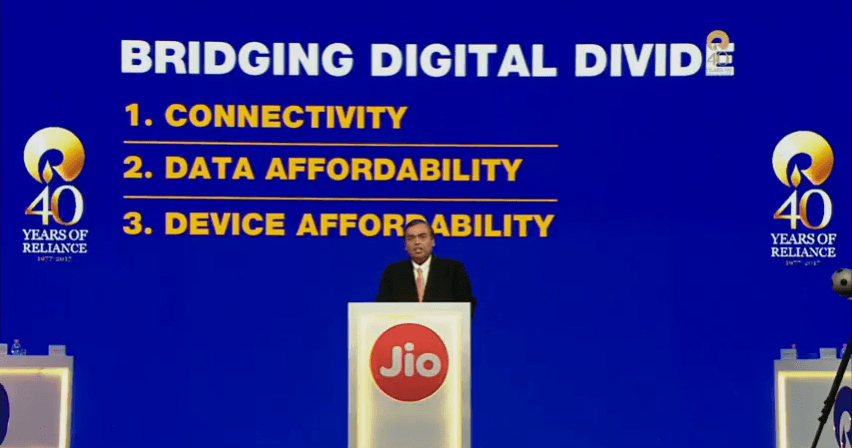 11:26 a.m. IST: India has 78 crore mobile phones in India, out of which 50 crore are feature phones.
11:25 a.m. IST: Jio also recorded the biggest free-to-paid migration in history. Majority of free Jio users converted to Jio Prime. Over 100M customers are Jio Prime subscribers.
11:22 a.m. IST: Jio is the largest mobile video network with 125 crore data consumption. Thanks to Jio, India is ahead of China and the U.S. in terms of data consumption.
11:20 a.m. IST: Jio users will never pay for voice calls, it's a reassurance by Ambani despite TRAI's minimum fare price challenge.
11:19 a.m. IST: Jio has over 125 million customers.
11:17 a.m. IST: In ten months since the launch of Reliance Jio, the company broke several records, including achieving 100 million customers in 170 days – the growth is faster than Facebook, WhatsApp and any other technology company in the world.
11:15 a.m. IST: Ambani dedicates the 40 years of achievements by RIL to founder Dhirubhai Ambani. A moment of applause, standing ovation and applause.
11:13 a.m. IST: Mukesh Ambani announces significant improvements. He said that Rs. 1,000 share purchased in 1977 is now worth over Rs. 16.50 lakh. Shareholders money has doubled two and half times in every two years.
10:58 a.m. IST: Reliance Industries Limited 40th Annual General Meeting will begin momentarily.
Original article
After announcing the Q1 2017 results with a net profit of 8.6 percent to Rs. 8,196 crore, Reliance Industries Limited (RIL) chairman and managing director Mukesh Ambani will reveal where the multi-billion-dollar company is headed at the Annual General Meeting (AGM) on Friday.
The AGM conference will begin shortly and Ambani's speech addressing shareholders, investors and the people of India will be live-streamed through company's media channels 11 am onwards. At International Business Times, India, we will bring you the action and important announcements that will make a difference to millions of Jio customers.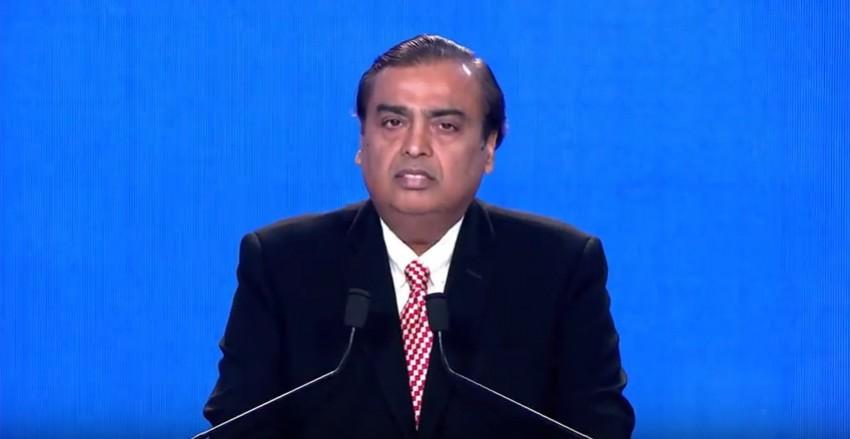 What do we expect?
Reliance has a lot to confirm or deny as rumours have it that the company is vigorously expanding its operations beyond telecommunications. There has been some strong evidence that a 4G VoLTE feature phone by Reliance will make its way to the market shortly after Ambani officially announces it at AGM. Only time will reveal the true fact.
Read: Reliance Jio AGM Expectations
Other than that, rumours have it that the company might shed light on its JioFiber FTTH broadband plans and also introduce new prepaid plans to favour millions of Jio Prime members. While we wait in the anticipation of the same, it's best to hear it from the horse's mouth in a few moments.
11:39 a.m. IST: Jio Phone, being a feature phone, has incredible voice command support and internet, and includes all Jio apps for entertainment.