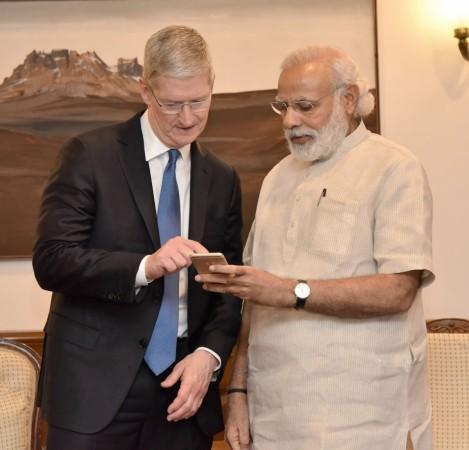 Apple is discussing the possibility of making its iPhones, iPads and Macs locally with the Narendra Modi government, two senior government officials were reported as saying by the Wall Street Journal. This could benefit consumers as the 'Make in India' initiative incentivizes companies by giving tax breaks among other perks.
Most of the Apple products are assembled in China by Foxconn Technology and exported to different parts of the world. As a result of this, the prices of iPhones in India are highest compared to the rest of the world. By agreeing to assemble iPhones in India, where Foxconn already has smartphone assembly units for various brands like Xiaomi, Nokia and InFocus, the prices are likely to drop.
According to WSJ, the Cupertino-based tech titan sent a letter to the Modi government last month, outlining the possibility of assembling its products within the country and taking advantage of the financial incentives from the government. As a result of Make in India initiative, which is one of many undertaken by the Modi government since 2014, several companies have agreed to get on board.
Major international brands like Samsung already assemble their products in India to sell them locally. With Apple joining the territory, the competition is likely get more intense.
Rumours about Apple's Make in India plans and flagship retail stores have been doing the rounds for almost a year now. Apple CEO Tim Cook's visit to India and his meeting with PM Modi added more fuel to those rumours. The Indian government has also relaxed the norms it had for setting up single-brand retail stores for foreign entities in June, which was a major obstacle for Apple.
This is a major step for Apple in India, as it accounts for only two percent of the country's smartphone sales. The expensive pricing on all of its premium products have posed as a major setback which companies like Samsung, Micromax, Xiaomi, Lenovo and others have taken advantage of with their affordable and effective smartphones.
Apple's plan to sell refurbished iPhones to attract the budget-conscious lot of the country failed after the government rejected the proposal. So, the Make in India initiative is the only shot at making its iPhones less expensive and hopefully trading for a higher market share in the fiercely-competent country.
Tim Cook's optimism is commendable. Despite the first annual revenue decline in the quarter that ended in September, Cook said the revenue report in India shows growth. "We still believe we're just kind of scratching the surface there," Cook said at the time.
On the contrary, US President-elect Donald Trump has been pushing Apple to manufacture its products within the country, with hope to bring jobs back to the country. Trump's electoral campaign was largely surrounded by this, and at one point he even called for a boycott on Apple products.