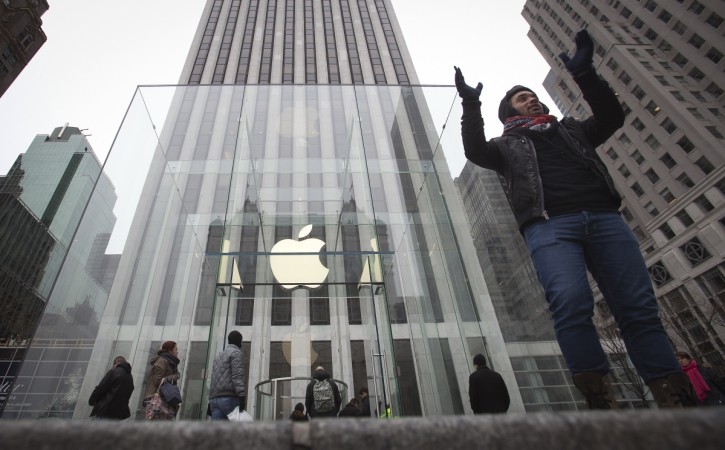 Apple is reportedly planning to open single-brand stores at prime locations across India as it continues to face stiff competition from rivals in the premium smartphone market. The new Apple Stores in India would draw close similarities with the company's landmark store in Fifth Avenue, New York, which is built beneath a large glass cube.
According to a report by the Economics Times, Apple is looking to set up its first batch of single-brand stores in key areas in Mumbai, Bengaluru, Pune and the National Capital Region (NCR) with an area of over 2,000-3,000 square feet. The stores would include a dedicated space for technical support and holding small workshops.
Apple's grand architecture in the Fifth Avenue Store is unique compared to other stores. The Cupertino tech giant holds several patents for the design of its store. Apple's move has triggered a reaction from Samsung, which is also looking to expand its network of physical stores across India.
The Korean tech giant, who is the biggest rival to Apple, is reportedly looking to open stores with over 2,000-2,500 square feet area and also set up at least one flagship store with over 15,000 square feet in India with close resemblance to its "Samsung D'Light" store located in the company's headquarters building in Seoul, thre ET reported. In that store, like the original Samsung D'Light, all products ranging from smartphones to TVs and wearables to other electronics would be sold under a single roof.
Apple has been negotiating with the Indian authorities to set up its own store since 2014, but the recent change in FDI norms in November 2015 aligned with Apple's demands. India's former FDI policy required any foreign company investing more than 51% in a local firm or joint venture to source 30% of its products from within the country.
Recently, Apple resubmitted its application to open single brand retail stores in the country as the Department of Industrial Policy and Promotion (DIPP) demanded some clarifications on the original proposal. The company currently operates 481 retail stores in 18 countries, including China. These stores offer uniform experience to consumers and have built a reputation to convince buyers to make the purchase.
By opening retail stores in India, Apple is showing keen interest in the world's second-largest smartphone market after China. It also means the company has some long-term plans to strengthen its base in the country. While the company has cleared that it would not make cheaper devices for emerging markets like India, consumers can watch out for some attractive schemes like sale of refurbished iPhones in the country.
It is unclear how soon Apple might set up the first retail store in India, but given the preliminary proceedings, it could take a few years.