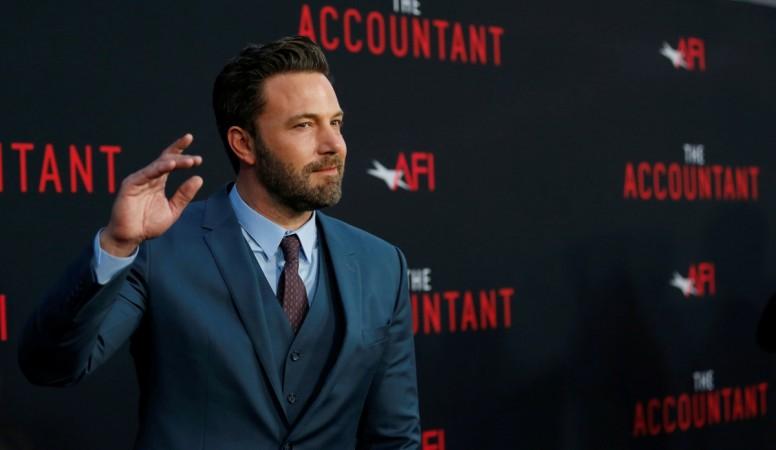 Hollywood actor Ben Affleck is not sure about directing the next Batman movie. A recent interview with the Guardian has revealed the uncertainty about the upcoming movie and his opinion about United States President-elect Donald Trump.
Also read: Jennifer Garner, Ben Affleck renew vows; did the Batman actor surprise Jen with $2.3 million diamond ring?
The filmmaker, who was promoting his latest film Live by Night, said that he is not sure of stepping behind the camera for the solo Batman movie.
When asked if he still plans to direct and co-write the film, he said: "That's the idea. But it's not a set thing and there's no script. If it doesn't come together in a way I think is really great I'm not going to do it."
This contradicts the actor-director's previous statement. In October 2016, Affleck had said that the script was "going well."
When asked if there is any reason for choosing the role of Batman, he replied that he did it for his son. "Sam thinks his dad is Batman. That's an incredible feeling," he said.
Affleck took a dig at US President-elect Donald Trump. "I met him once at a Fashion Week event in Milan. You knew you were at a cheesy party if Donald Trump was there. He would kind of trawl around them. He was famous for only granting permission for films to shoot on his real estate locations if they put him in as a cameo," he said.
Affleck also explained his feelings over Trump's victory. "People whose overarching political agenda is that immigrants are ruining things for us or immigrants are getting one over on us somehow, taking advantage. In London, it's Polish people and here it's Mexican Americans," Affleck said.
"I still believe in the basic goodness of people, but that doesn't mean we aren't going through a spell where we're in thrall to some ugly ideas and ugly notions," he added.
Earlier, the film production was looking smooth as the Gone Girl actor announced the name of the villain in the Batman movie. On the other hand, Affleck will be starring as Bruce Wayne in DC mash-up Justice League alongside Henry Cavill (Superman), Gal Gadot (Wonder Woman) and Jason Momoa (Aquaman).
Starring Affleck and Elle Fanning, the period gangster-drama Live by Night will open in theatres on January 13.