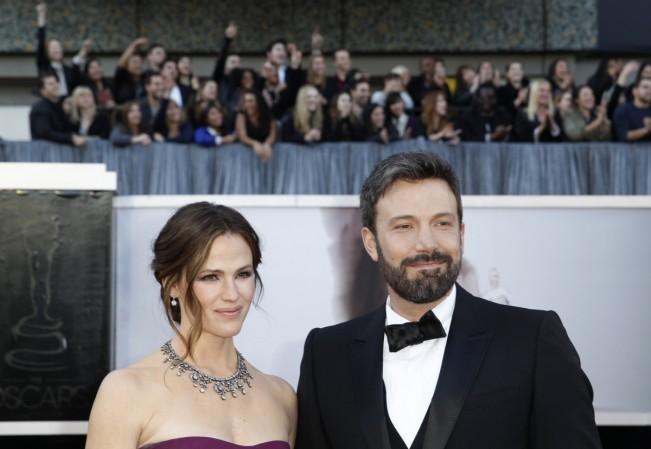 Amid the fourth pregnancy rumours, reports claim that Jennifer Garner and Ben Affleck have renewed their vows in a secret ceremony. According to Star Magazine, the couple had a secret ceremony with just their three children.
"They wanted something quiet and intimate, with just the children present. Jen wore a sweet, simple dress and Ben put on a pair of slacks and a nice shirt," a source told Star magazine.
The source further stated that the event for romantic and special to Garner and Affleck. "Afterward, she laughed and thanked him for making an honest woman out of her. He also surprised Jen with a fabulous $2.3 million diamond ring. It's all perfect timing, especially now that their pals think she's expecting again," the insider said.
Soon after that, Garner and Affleck were spotted having dinner together hinting that they might come together for a Thanksgiving dinner. On Wednesday, Garner and Affleck went out for dinner in Malibu.
Garner and Affleck reuniting rumours have been doing the rounds for quite a while now. Recently, a tabloid claimed that Garner is expecting her fourth child. The 13 Going on 30 actress apparently wants to save the marriage and have also called off their divorce.
"Jen couldn't be happier! All she's ever wanted is for Ben to stop boozing and partying and to recommit to their family. With this new baby on the way, he's making all the right promises," National Enquirer quoted a source as saying. "A new baby would be like icing on the reconciliation cake!"
With all these speculations doing the rounds, it looks like that Garner and Affleck, who announced that they are separating after 10 years of marriage, are trying their best to call their divorce off.