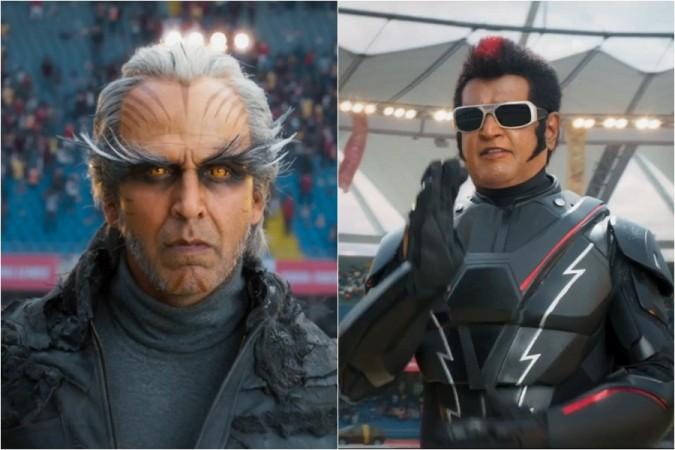 The biggest ever Indian movie - 2.0 featuring two superstars – Akshay Kumar and Rajinikanth is all set to be released on November 29. There is a huge hype around the film, and expectations are extremely high from this sci-fi thriller.
With a budget of Rs 500 crore, the stakes are really high with 2.0. The trailer of the movie had witnessed mostly positive response from the viewers, who were impressed with the visuals. Apart from the visuals, it is Akshay's evil look in the movie that grabbed most attention.
While Rajinikanth has a double role – one of Dr. Vaseegaran and the other is that of the powerful robot Chitti -- Akshay will be seen playing the character of a scientist, whose experiment goes wrong, turning him into a monster.
Although the character of Chitti is very popular too, it is Akshay's wicked character that is the new addition to the franchise. Hence, a lot of curiosity is among the audience to witness the antagonist's devilish act. Also, the fact that it is Akshay, who is currently one of the most popular Indian actors, playing the role made it even more talked about.
Even Rajini had earlier said that it is Akshay's character in 2.0 which is most important and not that of his. He had said Akshay's character is both the hero and the villain.
"In 2.0, Akshay is the villain and the hero. Chitti and Vaseegaran were needed in this movie for continuation, and that's why film-makers put Rajinikanth in this film. Otherwise, Rajinikanth is not needed in this movie," the superstar had told a publication earlier.
So, will Akshay overshadow Rajini in 2.0 and steal all the limelight? Well, we will have to wait and watch.
Meanwhile, the advance booking of the big movie has got excellent response from the audience, especially in the south. It is being expected that 2.0 will have a massive opening at the box office, setting new records.