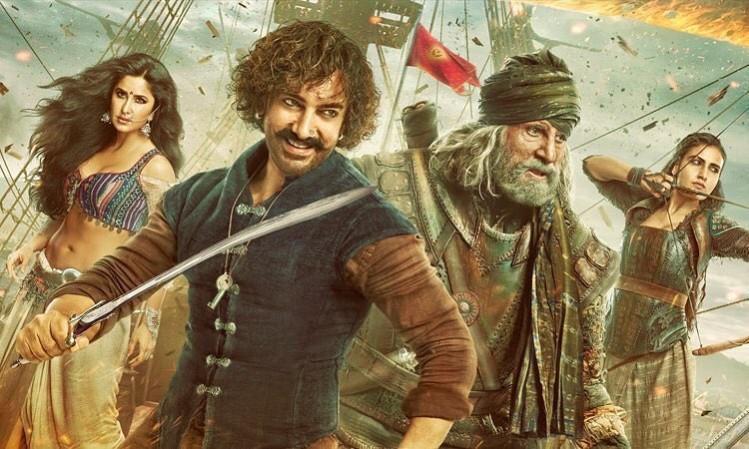 Thugs of Hindostan (Thugs of Hindustan) was one of the most awaited flicks of this year, and it was expected to create havoc at the box office. However, it failed miserably to woo the audience, and hence flopped at the commercial circuits too.
With a strong star cast of Aamir Khan, Amitabh Bachchan, Katrina Kaif and Fatima Sana Shaikh, Thugs of Hindostan is undoubtedly one of the biggest films of not just this year, but in the history of Bollywood. Moreover, the whooping budget of Rs 300 crore made it a highly anticipated one.
From huge budget supporting high VFX to powerful star cast, It had almost all the required ingredients to become a remarkable movie, but Thugs of Hindostan turned out to be an epic disaster. It was not only disappointing but also shocking for a lot of fans.
After back to back hit and content oriented films like PK, Dangal and Secret Superstar in recent past, Aamir was expected to give yet another blockbuster this time with Thugs of Hindostan, but he miserably failed. So, what really went wrong for Aamir this time?
Here are top five reasons that apparently made Thugs of Hindostan a flop:
Poor direction and script: The biggest drawback of TOH was the quality of direction and script. Although the subject matter had the potential to be turned into a master-piece, the movie's overall treatment appeared to be quite outdated. Moreover, the film suffered from serious logical irregularities.
Comparison with Jack Sparrow of Pirates of Caribbean: Aamir's character had much similarity to the character of Jack Sparrow, which raised the level of expectation even higher. But in reality, character of Firangi played by the actor appeared no where close to the Hollywood character in terms of quirkiness or action.
Underutilisation of Katrina Kaif: Although Katrina was presented as one of the lead characters in the movie during its promotions, it later turned out that she plays just an extended cameo in it. She is basically included in the movie just as a glam doll with no significance whatsoever, which apparently disappointed her fans.
Average action sequence: Considering the high budget and hype, the action sequences of the film were not up to the expectation. Many felt that Amitabh appeared to be too old to pull off the fights with the required speed and intensity. Also, there was hardly any action sequence that would make a lasting impact.
Strong criticism on social media: While the negative reviews from critics might have affected the film's collection too, it is the widespread criticism of Thugs of Hindostan on social media that apparently hampered it the most. The film received extreme negative responses on social media, which got reflected in its box office collection right from the second day.