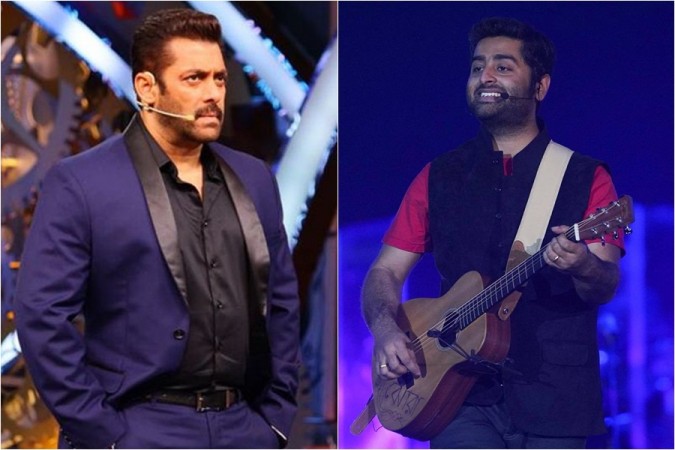 Salman Khan has reportedly snubbed Arijit Singh once again from singing a song in the upcoming film Welcome to New York. Apparently, the Dabangg actor had told the makers of the film to replace Arijit's voice in Ishtehaar song which now has Rahat Fateh Ali Khan's voice. Earlier, Salman had reportedly denied Arijit a chance to sing in Tiger Zinda Hai (2017) and Sultan (2016).
But why is Salman Khan persistently rejecting Arijit Singh who is one of the most sought-after playback singers in Bollywood?
Well, it all started in 2014 when Salman Khan and Arijit Singh exchanged sharp remarks on stage at an award function.
Back then, Arijit, who was busy editing a song for his mentor and composer Pritam Chakbraborty, wasn't prepared to go for the award function as he was dressed in casuals and chappals. But he attended the event on being requested by Mahesh Bhatt.
When Arijit's name was announced for an award at the function, the singer went on stage wearing his casual chappals which grabbed Salman Khan's attention who arrived on stage to present the award.
After seeing him in his casual avatar, Salman laughed in disbelief and said, "Tu hai winner (You're the winner)?" The Dabangg Khan also asked him if the singer had fallen asleep.
To which Arijit quipped, "Aap logon ne sula diya (You all put me to sleep)." But soon he realised his goof-up and whispered "sorry" in Salman's ears.
However, Arijit walked away when he couldn't find his seat after he walked down the stage. His actions made Salman visibly angry and commented, "Look at this guy. He has collected his award in chappals and now, he's walking away."
And it was this incident that scared the hell out of Arijit after he witnessed Salman's reaction.
However, Arijit, who was feeling sorry after what had transpired, apologised to Salman via text message as soon as he went back to Kolkata. To which Salman rebuked him and told him he shouldn't have dressed so casually for the function and he should respect the awards.
Arijit was quite happy that Salman replied to his message and gave him a good advice as a senior. But that was just the calm before the storm.
Sometime later after the unfortunate episode, when Arijit recorded a song for Meet Brothers in Kick, Salman demanded it to be removed from the film. The singer, who was a newcomer at that time, pleaded to meet and apologise to Salman personally but to no avail.
Later in 2015, Salman again refused to accept Arijit singing a song in his blockbuster film Bajrangi Bhaijaan. And history repeated itself when the singer was being considered to croon Jag Ghoomeya in Sultan. He recorded the song with composer Vishal Dadlani but his voice was removed and replaced by Rahat Fateh Ali Khan.
After this episode, Arijit's dream and heart were shattered as the song was very close to his heart which led him to post a heartfelt letter to Salman on his Facebook page to apologise to him.
Read the full-unedited text from Arijit's letter to Salman.
"Dear Mr Salman Khan This is the last way I thought I would speak to you. I have been trying to text you call you and do everything possible to tell you that you are mistaken about the fact that I insulted you. I never did.
That night in the show It was the wrong time and wrong aura. Nevertheless you felt insulted. And I understood and I felt extremely sorry about it as me and my family have been your fan since long. I tried to explain so many times but you never got it. I apologized but you never got it. How many times I sent you apology texts you also know. At Nita Ji's place I only came back to apologize to you but you didn't get it.
No problem I apologize here In front of everyone but please it is a request. Please do not remove the song that I sang for you in Sultan.
You want anyone else to sing this song, absolutely fine but keep a version at least. I have sung enough songs sir. But I want to retire with at least one song of you keeping in my library. Please do not take away this feeling. I don't know why am I doing this I know the consequences People are going to write their heart and mind and everything. I also know you won't be bothered Mr Salman Khan. Still I think I need to take it out. After all I have to live with this fact that you made sure that I don't sing for you even though so many of us requested.
But I will be a fan bhaijaan.. Jagg ghumeya thare jaisa na koi..
Regards
Yours truly
Arijit Singh
Let there be light."
After receiving multiple concerns from his angry fans, Arijit deleted the post and wrote, "I hope he gets my letter through someway. Ps. This whole thing will backfire at me I know. Prayers."
Welcome To New York will hit the screens on February 23. The film has Diljit Dosanjh and Sonakshi Sinha in the lead roles and has a cameo by Salman Khan.