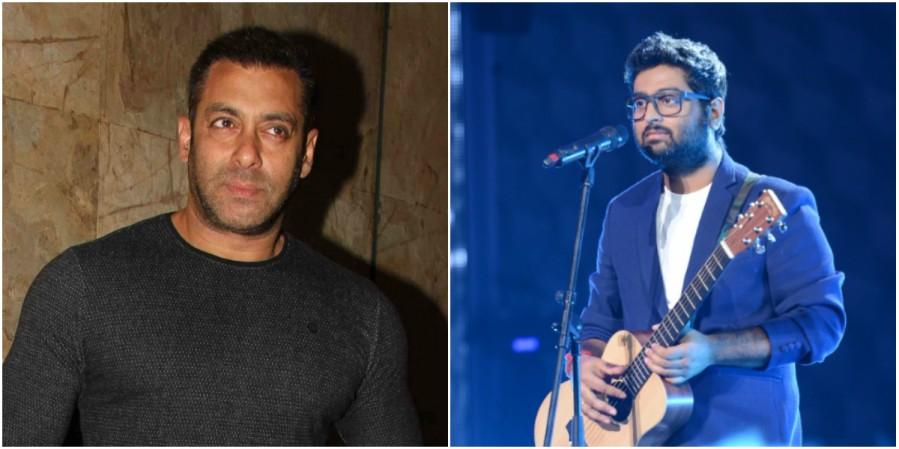 The rumored conflict between Salman Khan and Arijit Singh has yet again come to the fore after the superstar allegedly denied the singer the chance to render a song for the film Welcome To New York, and instead got Pakistani singer Rahat Fateh Ali Khan on board for the same. Irked by the reports on the development, Arijit's fans give vent to their anger by slamming Salman on social media.
Salman had allegedly objected to the inclusion of Arijit's songs in his films, not once but twice. He had first replaced Arijit with Rahat for the song Jag Ghoomeyan in Sultan, followed by Dil Diyan Gallan in Tiger Zinda Hai that was eventually sung by Atif Aslam, reports said.
Now, if the reports of Sallu Bhai causing Arijit's ouster from the song Ishtehaar in Welcome To New York are true, this would be the third time that the singer lost a song due to Salman. The actor has a special appearance in Welcome To New York that has an ensemble cast of Diljith Dosanjh, Sonakshi Sinha, Karan Johar, Riteish Deshmukh among others.
One interesting aspect here that got people's attention is that in all the three instances, Salman replaced Arijit's voice by that of Pakistani singers -- Atif and Rahat are from Pakistan.
While Arijit's fans are already miffed with Salman for allegedly snatching away songs from the talented singer, they are even more irked for the Tiger Zinda Hai actor preferring Pakistani singers over an Indian vocalist.
Singer-turned-politician Babul Supriyo expressed strong reservations on this while extending support to Arijit and even went on to the extent of demanding a ban on Pakistani singers in India.
"If that's true, I would request the makers of the film to remove Rahat's voice and get someone else to dub it! I am also not sure why Atif Aslam got to sing 'Dil diya gallan' when for sure our very own Arijit could have done a much better job. The FM stations played the song galore while news channels announced the name of our soldiers martyred by Pakistan-sponsored terrorists," IANS quoted Supriyo as saying.
""Atif as an artist sounds great in 'Dil diya gallan' and Rahat is a great singer too. But it's important to clarify that our problem is not with the artists Atif or Rahat, but with their Pakistani nationality. It's not a political stand but probably the families who have lost their sons, brothers, fathers would feel a lot better should the entire country show solidarity in any manner possible," he added.
These statements from Supriyo got support from many on social media, and Salman is being slammed for choosing a Pakistani singer over Arijit. Some of the angry fans are even abusing Salman on Twitter for the same reason.
Salman's apparent hatred for Arijit had reportedly grown after the superstar felt insulted by the singer's comment during an award function in 2014. Later, Arijit had made a public apology to Salman on Facebook as well, but that apparently did not help much in sorting things out between the duo.
Check some of the Twitter reactions below:
i dont undrsnnd why sme pple say call salman khan a giving and kind person...he is arrogant in reality although arijit apolozized he didny respect but arijit doesnt need salman for making songs hit but salman khan is being over bcz of his cameo he replaced arijit s song???

— manish (@manish80808246) February 19, 2018
This salman-arijit-atif drama is so fucking stupid i swear, and it all started because a grown ass man who possesses a mind of a ten year old kid couldn't take a fucking joke, and held a grudge for over 4 years. can you actually believe this shit lmao

— ☄ (@gilithiel) February 19, 2018
Mr.khan..do your neighbouring country also promotes Indian talent...downfall you alsoface oneday..."Why Pakistan's Atif Aslam Got Salman Khan's 'Dil Diya Gallan' When India's Arijit Singh Could Have Done A Better Job?" Questions Babul Supriyo https://t.co/COJEdlQQKr

— Bhagyahh Anil (@bhagyahhanil) February 19, 2018
Arijit ki sucess dekha nhi jaata salman se....ego par kayam h salman....agar Arijit ko gaana de diya to ego ka kya...

— Bishwajit Mondal (@Bishwaj73279946) February 19, 2018
Not entire bollywood but some people like @BeingSalmanKhan , Amir Khan, Srk whi are more loyal to pakistani artiste than indian.
This salman removed arijit to take atif aslam. Shows their love to pak not india .

— TamasomaJyotirgamaya (@Tamasomaa) February 19, 2018