Prime Minister Narendra Modi has made it to the cover of the Asian edition of Time magazine again but this time with quite a bemusing caption – 'Divider-in-Chief'. PM Modi was named in the list of Time's most influential people in 2014, 2015 and 2017 but failed this year.
The magazine is scheduled to roll out on May 20 and the article's author, Aatish Taseer, writes about PM Modi and his party's Hindutva politics in India which led to the shift in the electoral balance. The story is titled "Can the World's Largest Democracy Endure another Five Years of a Modi Government?"
The article began with the sentence – "Of the great democracies to fall to populism, India was the first."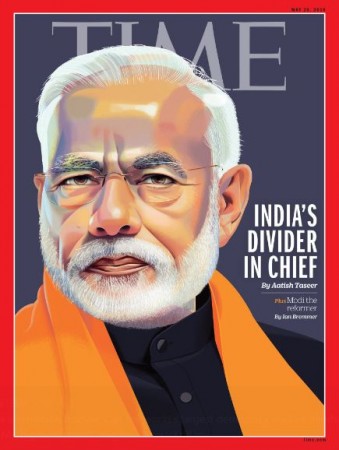 Taseer compared PM Modi with Jawaharlal Nehru whose secularism strived to bring unity in the country. He goes on to explain that under Modi's governance, the country and the Prime Minister has "demonstrated no desire to foster brotherly feelings between Hindus and Muslims."
Calling Modi a "friend of the mob", Taseer questioned the PM for his silence during the 2002 Gujarat riots which was a catalyst to tear apart the Hindus and Muslims in the country. Taseer, citing American historian Anne Applebaum, wrote that PM Modi's politics created "unresolvable divisions between people who had previously not known that they disagreed with one another."
IANS reports that this is the first time that PM Modi has come under the glare of criticism in the history of him being featured in the magazine. When PM Modi was featured in the 2012 edition, he was described as a shrewd politician but 2019 is the time he has been called out for his divisive politics on the basis of religion, caste and class and the impact it has on the Lok Sabha elections.