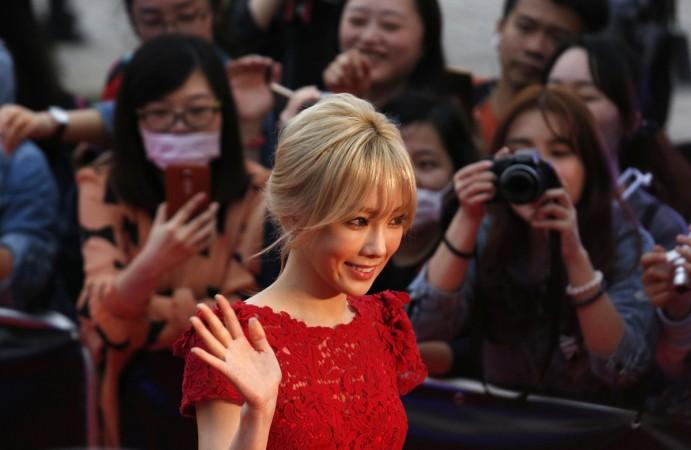 It's been almost a year since news of Baekhyun and Taeyeon's break-up surfaced. However, fans of the ex-couple seem to be in love with the idea of their idols still being together. Recently, netizens who seem to follow the K-pop stars' style and choice of accessories speculated that EXO member Baekhyun could still be dating Girls' Generation member Taeyeon.
The cause for this recent speculation arose from the fact that the SM Entertainment artists wore similar eyeglasses and carried the same backpacks. Fans believed this was sufficient evidence to prove that the singers' were dating again.
One user pointed out that Taeyeon's backpack is the same as the "Lucky One" singer's. Furthermore, her round-frame eyeglasses are similar to the ones Baekhyun, 24, wore during a broadcast on Naver's V app.
Although this post did raise several eyebrows and many fans wondered about the possibility of them dating, several others were quick to shoot down the rumours that began to swirl on the internet.
In response to this post, one fan said that the EXO member's eyeglasses were chosen by the people at V. The user also stated that Baekyun aka Byun Baek-hyun's bag is same as his band mate, Sehun's.
Allkpop quoted one user as saying, "[Taeyeon and Baekhyun] were cursed to all hell so you think they'd be crazy enough to date again? That's just your wish."
The "Monster" singer broke-up with Taeyeon, 27, in September 2015 due to a conflict in their schedules. Sources close to the two said they decided to end their on-again off-again relationship and maintain a super-junior work equation under their label.
News of their split was later confirmed by SM Entertainment. The company stated that the EXO member and Girls' Generation singer are still friends.
Earlier, Taeyeon, 27, was rumoured to be dating BIGBANG member G-Dragon. Although neither artist's label confirmed this, netizens compared the two singers' fashion choices and argued that they could be dating.