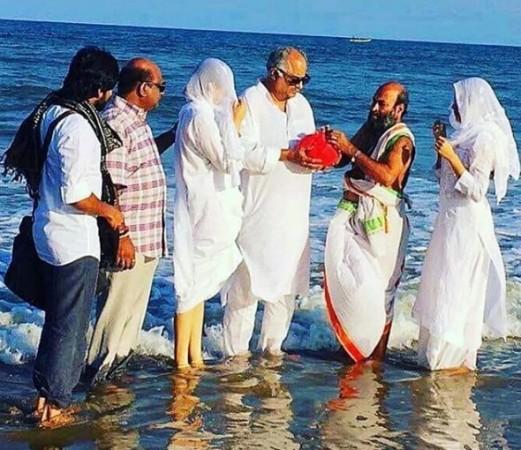 The members of the Kapoor family, including Boney Kapoor and Anil Kapoor, along with friend Manish Malhotra and others, immersed parts of Sridevi's ashes in the holy Ganga in Haridwar on March 8, after conducting a similar ceremony in Rameswaram on March 4.
But why were the ashes of Sridevi — who was cremated with state honors at the Vile Parle Seva Samaj Crematorium in Lokhandwala, Mumbai, on February 28 — first immersed by Boney Kapoor along with his daughter Janhvi Kapoor and Khushi Kapoor in Rameswaram in Tamil Nadu and then in Haridwar?
Sources close to the family said the late actor had stopped at Haridwar during a film shoot in 1993 and had promised to return to the holy city.
It was to fulfill this wish of Sridevi that the family decided to immerse a part of her ashes in the Ganga there, after performing a similar ritual at Rameshwaram in Tamil Nadu.
After immersing the ashes in Haridwar, the Kapoor family paid obeisance at the Harihar temple at Kankhal. They drove back late on March 8 evening to Dehradun, where they spent the night at the Nature Villa hotel.
Sridevi died February 24 due to accidental drowning in a hotel room in Dubai. The 54-year-old was found lying unconscious and completely immersed in a bathtub. Her body was flown back to Mumbai on February 27 evening following clearance from the Dubai Police.
A sea of well-wishers including the entire film fraternity queued up outside Celebrations Sports Club near her residence in Lokhandwala to pay their last respects at the prayer meet for the late actress on February 28. Her funeral procession was one of the largest Mumbai had ever witnessed.
With IANS inputs.