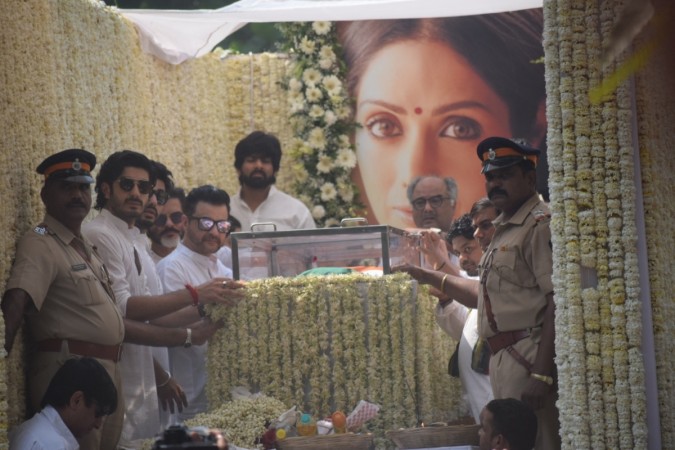 After immersing Sridevi's ashes in Rameswaram, Tamil Nadu on March 4, Boney Kapoor, Anil Kapoor, Manish Malhotra, Amar Singh and other family members performed Thursday (March 8) the late actress' "asthi visarjan" at the VIP ghat in Haridwar, Uttarakhand.
The photos show Boney, Anil and others sitting with a priest performing the rituals and pujas before immersing the ashes of Sridevi in the Ganga.
Sridevi's last rites were performed on February 28 at the Vile Parle Seva Samaj Crematorium in Lokhandwala, Mumbai. The actress was accorded state honors.
The actress' demise on February 24 came as a shocking news for everyone. The Dubai Police, after conducting an autopsy, said she had died of accidental drowning.
Thousands of her well-wishers gathered outside her house to pay their last respects during her prayer meet. Many celebrities, including Shah Rukh Khan, Salman Khan, Aishwarya Rai Bachchan and Jacqueline Fernandez, were spotted at the venue.
After Sridevi's cremation, the Kapoor, the Ayyappan and the Marwah families issued a statement requesting space to grieve for the loss of their loved one.
Later, the Kapoor family also thanked the Mumbai Police for their support during the actress' funeral.