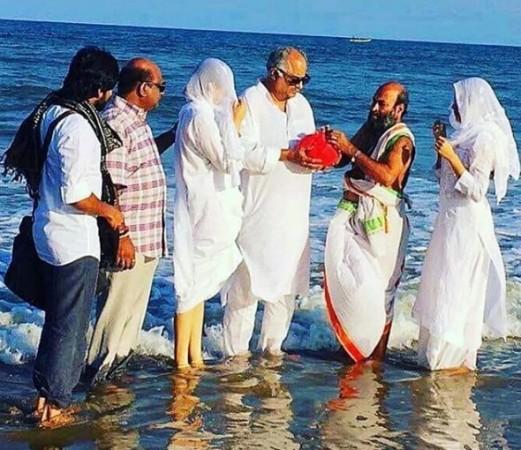 The first picture of Sridevi's ashes being immersed in the Indian Ocean in Rameswaram, Tamil Nadu, by husband Boney Kapoor along with their daughters has come up on social media.
ALSO READ: Arjun Kapoor's sister Anshula blast trolls who abused Sridevi's daughters Janhvi and Khushi
The photo shows Boney holding the urn carrying Sridevi's ashes just before immersing it in the sea. His daughters Janhvi and Khushi were also there with a priest.
After her sudden demise on February 24 in Dubai, her last rites were performed on February 28 with state honor in Mumbai. The actress' ashes were carried to Tamil Nadu reportedly in a special aircraft.
Sridevi's died due to accidental drowning inside bathtub of her hotel room in Dubai, where she had gone to attend a family wedding. After the Dubai police gave clearance to take the body back, she was draped in a tri-color and was given a state funeral.
Thousands of people had thronged into the Mumbai roads to get a last glimpse of the legendary actress. Several Bollywood celebrities had visited her funeral and paid last respects to Sridevi.
Later, Boney had released a heartfelt statement, expressing grief at the untimely death of his wife. While the exact picture of Sridevi's death was somewhat not clear all these days, Boney had recently narrated the entire incident.
Not just Boney, Anil Kapoor, and Janhvi had also put their heart out in emotional open letters. Below is the caption Janhvi had given to the touching letter:
"On my birthday, the only thing I ask of all of you is that you love your parents. Cherish them and devote yourself to making them feel that love. They have made you. And I ask that you remember my mother fondly, pray for her soul to rest in peace. Let the love and adulation you'll showered on her continue and please know that the biggest part of my mother was the love she shared with papa. And their love is immortal because there was nothing like it in the whole world. Nothing as joyful and pure and no two people as devoted to one another as they were.
"Please respect that because it hurts to think anyone would ever try to tarnish it. Preserving the sanctity of what they had would mean the world not only to my mother but also to a man who's entire being revolved around her, and her two children who are all that remains of their love. Me and Khushi have lost our mother but papa has lost his 'Jaan'. She was so much more than just an actor or a mother or a wife. She was the ultimate and the best in all these roles.
"It mattered a great deal to her to give love and to get love. For people to be good and gracious and kind. She didn't understand frustration or malice or jealousy. So let's be that. Let's be full of only good and give only love. That would make her happy, to know that even in death, she gave you all something. The courage and inspiration to fill yourselves with nothing but love and rid yourselves of bitterness in any way and form. That's what she stood for. Dignity, strength and innocence. Thank you for the love and support everyone has shown us in the past couple of days. It's given us hope and strength and we can't thank you all enough."
Meanwhile, Virat Kohli and Anushka Sharma visited Sridevi's house on Sunday. The couple was spotted arriving at their house together. Sridevi's demise shook the entire nation as she had appeared to be in good health. A lot of questions were asked when the forensic report had stated the reason of death to be accidental drowning as many believed a healthy adult should not get drowned in a bathtub.