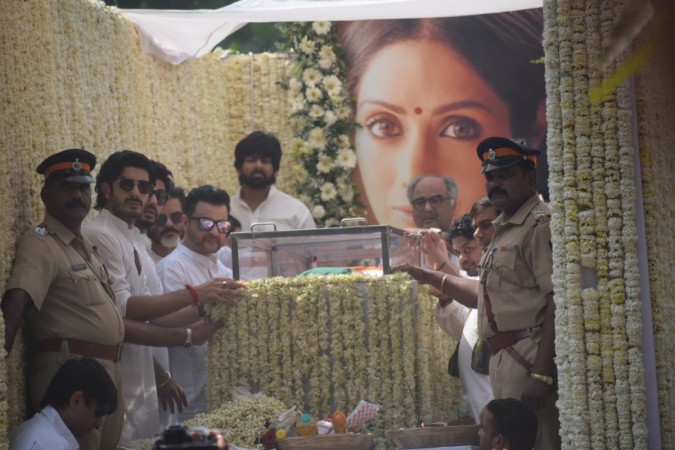 Sridevi's untimely death sent shockwaves worldwide. She breathed her last on February 24 in Dubai.
According to PTI, an urn carrying the ashes of Bollywood Superstar Sridevi was brought to Chennai by her husband Boney Kapoor for "asthi visarjan" or immersion in the sea off Rameswaram.
ALSO READ: Janhvi Kapoor pens a letter to mother Sridevi: 'There's a gnawing hollowness in my chest'
The report quoted airport sources as saying that the ashes were brought in a special aircraft, and will be taken to the holy island town of Rameswaram later on Saturday and immersed in the sea there.
The mortal remains of Sridevi, who died because of accidental drowning in a Dubai hotel, was draped in a tricolor flag, as her funeral was performed with state honors on February 28. Fans came by the thousands to pay their last respects to the legendary actress.
While her daughters Janhvi and Khushi were inconsolable, Sridevi's husband Boney Kapoor shared a heartfelt note: "To the world she was their Chandni... the actor par excellence... their Sridevi... but to me she was my love, my friend, mother to our girls... my partner. To our daughters, she was their everything... their life. She was the axis around which our family ran...."
Anil Kapoor, Sonam, Rhea, Harshvardhan and members of the Marwah family posted a statement requesting the media and everyone else to give them the "space to grieve."
An excerpt from the statement reads: "The past few days have been trying times for us as a family. Today, particularly, has been one of the hardest. We laid to rest a beautiful soul who has gone too soon. She leaves behind a legacy that is unique. Her talent was undeniable, her beauty unmatched and her ability to connect with the audience was legendary. Sri had the same connect with her family as well...To the members of the media, we ask that you respect the privacy of the family and allow us the space to grieve. Sri lived her life with dignity and we implore, that you give her the same respect."
Bollywood celebrities including Shah Rukh Khan, Salman Khan, Amitabh Bachchan, Katrina Kaif, Rani Mukerji, Jacqueline Fernandez, Hema Malini, Madhuri Dixit, Jaya Prada, Aishwarya Rai, Deepika Padukone, Ranveer Singh, Shahid Kapoor and many more attended the prayers meet on February 28. Later celebs took to Twitter and penned down their final farewell. Abhishek Bachchan posted a tweet that read, "With a heavy heart.... The show must go on!" and "Sometimes the greatest way to say something.... Is to say nothing at all."