Sridevi's ashes were immersed in the Indian Ocean in Rameswaram, Tamil Nadu, by husband Boney Kapoor along with their daughters – Janhvi and Khushi on March 3. On the next day, several celebrities including Anushka Sharma, Virat Kohli, Aamir Khan and Kangana Ranaut visited the family in Mumbai to pay their condolences.
They had not attended Sridevi's funeral on February 28. Anushka was busy shooting for Sui Dhaaga and was not in the city, thus, she visited with husband Virat to offer condolences.
Aamir and Kangana were also not in Mumbai for the funeral as they were shooting for Thugs of Hindostan and Manikarnika: The Queen of Jhansi, respectively.
Kangana talked about Sridevi's demise to Mumbai Mirror. She said: "I was her fan since I saw a tubelight ad of hers as a child and wanted to break the TV screen to bring her into our home. When I'd dress up for cultural shows, my great grandmother would fondly call me Sridevi. Years later, when I returned home exhausted after a long day, I'd watch her Charlie Chaplin sequence and the "Kaatey Nahin Katate' song from Mr India and marvel that it was the same woman in both. She was such a childlike soul whose loss I feel deeply."
Other celebs who visited at Boney's residence were Janhvi's Dhadak co-star and rumored boyfriend Ishaan Khattar, Shilpa Shetty Kundra with husband Raj Kundra and Aamir's wife Kiran Rao.
Here are the pictures:
Recently, the photo of Boney, Khushi, and Janhvi immersing Sridevi's ashes in Rameswaram had gone viral on social media.
After Sridevi's cremation ceremony got over on February 28, Boney and Janhvi had shared heartfelt letters on social media. Boney Kapoor also recounted Sridevi's death to Komal Nahta in his blog.
Nahta wrote: "Boney's impatience made him shout out to Sridevi from the living room itself. After calling out to her twice, Boney lowered the volume of the TV set. Still no reply. He then walked to the bedroom and knocked at the bathroom door and even called out to her. The unsuspecting husband, hearing the tap inside on, then called out 'Jaan, Jaan' still louder but got no reply, which was unusual."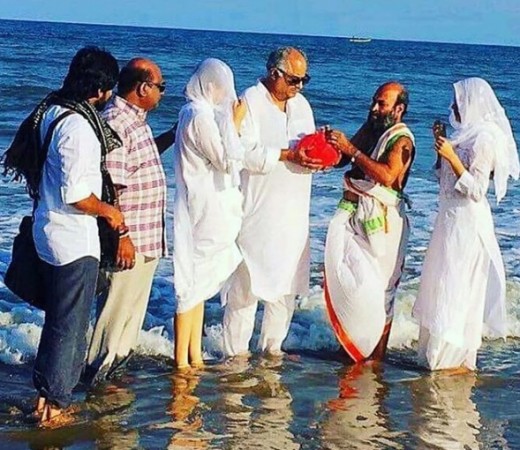 "He panicked and opened the door which had not been bolted from inside, nervous but yet not at all prepared for what he was going to see. The tub was full of water and Sridevi was immersed completely, from head to toe, inside the tub. Devastated, he reached out to her but watching her motionless, he feared the worst."
"Sridevi had drowned! Boney's world had come crashing down."
Boney Kapoor's kids (Anshula and Arjun) with his first wife were seen as his and Janhvi-Khushi's pillars during this phase. In fact, Anshula recently blasted the trolls who abused her step sisters on social media.
She slammed a troll saying: "Hi, I'm requesting you to refrain from using abusive language especially towards my sisters, I do not appreciate it and have therefore deleted your comments. While I am grateful for your passion and love for bhai and me, just a small correction – I was never working outside India. Let's please spread joy and good vibes. Thank you for the love."