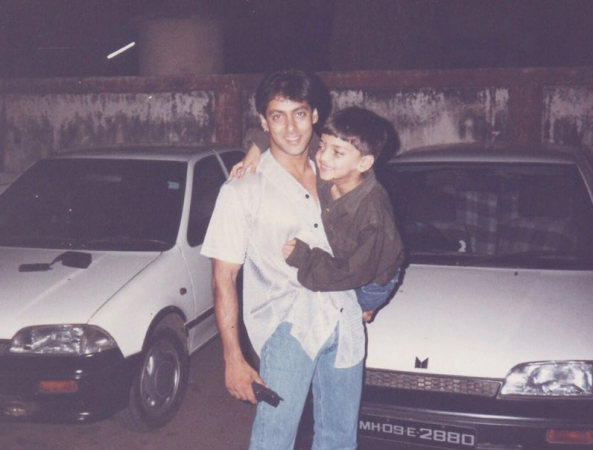 Salman Khan, who seems to have a keen eye for fresh talent has launched a quite a few budding actors in Bollywood. From Katrina Kaif and Jacqueline Fernandez to actors like Suraj Pancholi and others, he is now all set to launch another fresh face.
Zaheer Iqbal, though not from film industry, comes from a family that has known Salman Khan for a long time. The veteran actor took to Twitter to talk about his relationship with Zaheer's father.
He wrote, "N this is my childhood frnd Iqbal, as a teen he was my bank, I still owe him 2011rs . thnk God he did not take interest bete ko launch Kar raha hoon toh baap ka post toh karsakta hoon na. Lv the pic. (sic)"
According to Times Of India, Salman Khan had seen Zaheer Iqbal performing on stage at his sister's wedding and that's when the actor decided to launch him in Bollywood.
The Race 3 actor is reportedly looking to introduce the new talent in a romantic film. The film is set to be shot in Kashmir and will be produced by Salman Khan Films along with Murad Khetani and Ashwin Varde of Cine1 studios.
The film is not yet titled and will go on floors in September later this year. The director of Filmistaan (2013), Nitin Kakkar will be directing this film. The female lead of the film, also a fresh face, will be finalised shortly.
Salman has been training Zaheer for the role and is very confident about him. He even gave him a pet name Zahero and that's what the movie crew calls him. In fact, Salman did his photo shoot himself and the last time he clicked someone, it was Hrithik Roshan.
Talking about Zaheer, Salman told TOI, "Zaheer is made for the movies. He is a fantastic actor and a born star."
Praising the aspirant actor, Producer Murad Khetani said," Zaheer is here to stay for the long run."
"His greatest asset is his honesty and that shows on screen," added Ashwin Varde.
Director Nitin Kakkar too talked about Zaheer saying, "Zaheer's level of commitment towards his work is great. He will go a long way."
Check out some sizzling pictures of Zaheer Iqbal: