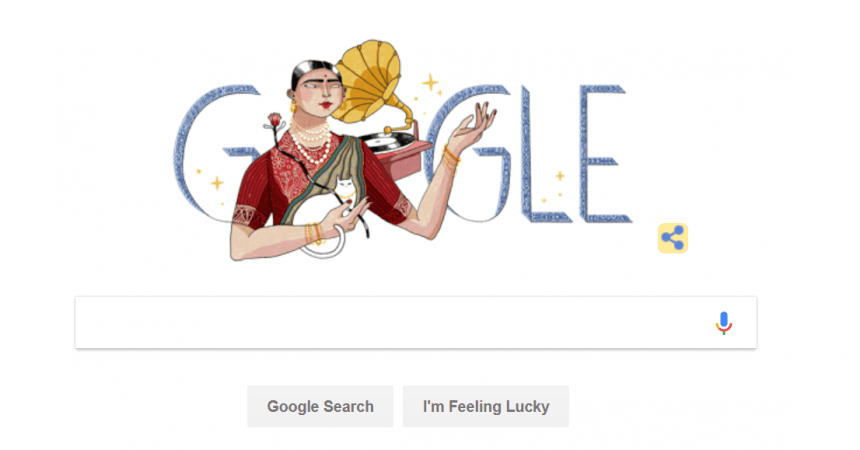 Google is known to honour personalities and celebrate events through quirky and creative doodles. And keeping up with this tradition, Google Doodle is honouring the 145th birth anniversary of legendary Indian singer and dancer Gauhar Jaan on Tuesday, June 26.
In the doodle, Jaan can be seen standing next to a gramophone and singing while she holds a white cat in her arms.
Who was Gauhar Jaan?
The singer and dancer was born Angelina Yeoward on June 26, 1873, in Calcutta.
Her father, William Robert Yeoward, was Armenian and her mother Victoria Hemmings was an Indian by birth.
The singer was eight when her parents got a divorce, after which she moved to Benaras with her mother and a Muslim man.
The mother-daughter duo then converted to Islam and Angelina Yeoward became Gauhar Jaan.
She later moved to Calcutta again and trained in Hindustani classical music and was popular for singing Kirtan and Rabindra Sangeet.
Such was her popularity and fan following that Jaan was even invited to perform at King George V's coronation in Delhi.
Jaan was one of the first performers to record music on 78 rpm records in India and was released by the Gramophone Company of India.
Due to this, she was often referred to as the "Gramophone Girl."
Jaan is known to have quite a colourful love life and three men are said to have left quite a mark. While zamindar Nimai Sen is known to have showered Jaan with expensive gifts and a great appreciation, the duo never tied the knot.
Jaan then married Saiyad Gulam Abas, her tabla accompanist and personal assistant. Abas is known to be 10 years her junior and the couple was much in love until she found out about his series of affairs.
She then went on to live with Gujarati actor Amrut Vagal Nayak. The relationship is said to have lasted for about four years but came to an end with Nayak's sudden death.
She spent the last few days of her life in Mysore. Those days are said to have been lonesome for the singer and she had to deal with several legal issues and interfering relatives, who are said to have sucked up all her wealth. She died nearly penniless at the age of 60 on January 17, 1930.