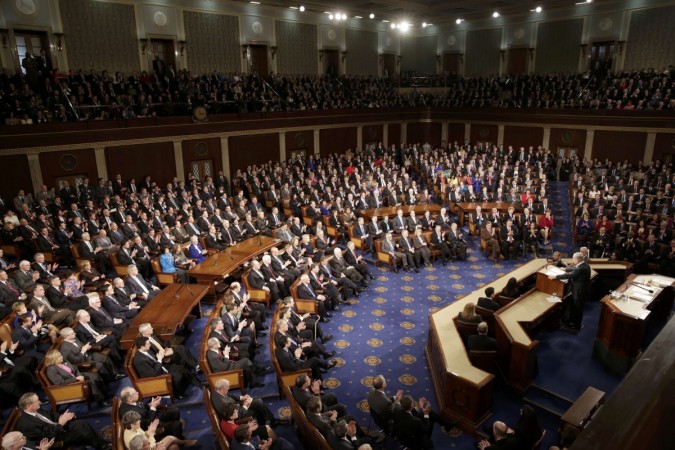 A 37-year-old man who is running for a congressional seat in Virginia has advocated for incest, rape, and paedophilia. Nathan Larson, a former accountant and felon, is now running as an independent candidate for US House seat in Virginia's 10th congressional district.
Larson had earlier spent 16 months in prison after he was caught plotting to assassinate former President of United States Barack Obama and George Bush in 2009.
His shocking and appalling views came to light during an interview with local news station when he said that he did not have a problem with paedophilia. "Like, if it's in the context of a marriage, then it, I think it's usually fine," Larson told WJLA.
To add to the woes, Larson is also an outspoken supporter of child abuse and worships Adolf Hitler. He has also openly expressed his desire to restore 'benevolent white supremacy' and also described his idol Hitler as a "white supremacist hero."
In another interview with Huffington Post, Larson said: "A lot of people are tired of political correctness and being constrained by it. People prefer when there's an outsider who doesn't have anything to lose and is willing to say what's on a lot of people's minds."
Larson lives with his parents in Virginia and has a three-year-old daughter. He was a politician with the Libertarian Party of Virginia, however, was thrown out of the party last year.
Although Larson has never been found guilty of paedophilia, he has often openly shown his support for child abuse and male dominance over women. He had also reportedly stated that it was okay for adults have sex with children – even 10-year-olds, news.com.au reported.
In his manifesto, Larson has expressed his support for "stopping the war on drugs, protecting gun ownership rights, and putting an end to the US involvement in foreign wars arising from our country's alliance with Israel," the Australian media outlet reported.
Congressional candidate for Va's Dist. 10 wants to "legalize incest," and Nathan Larson sees nothing wrong with that. Seriously dangerous. Watch @wusa9 @ 6:15 pic.twitter.com/esDhs3Lctu

— Peggy Fox (@PeggyTV) June 1, 2018
Nathan Larson, candidate for Congress, admitted rapist, advocate for child rape.

In common with TRUMP:

• Sexist, misogynist
• Rapist, (TRUMP accused of
rape multiple times.)
• Both Right Wing Nut Jobs
• Affinity for big tongue-red ties pic.twitter.com/mIpUvtoNNf

— William Singourd #BLM #RESIST #ImpeachTRUMP #GLAM (@WilliamSingourd) June 1, 2018