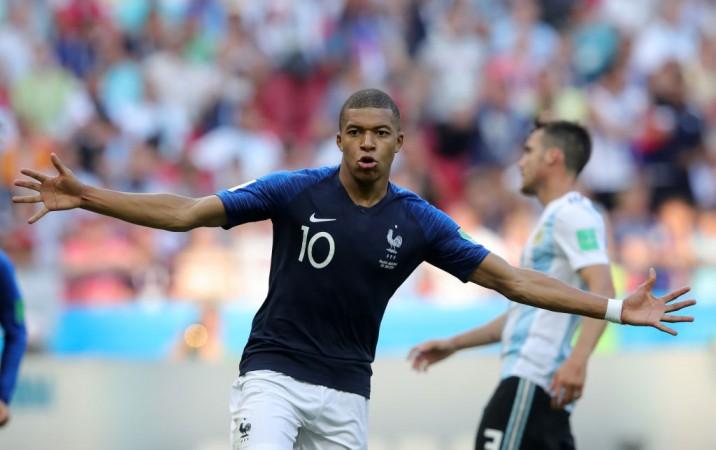 The Fifa World Cup 2018 came to an end with France lifting the Jules Rimet Trophy after beating 4-2 against Croatia in a dramatic final on Sunday, July 15.
Kylian Mbappe, the 19-year-old star, helped France beat Croatia in a six-goal spectacle at Moscow. The Paris Saint-Germain teenager, after his phenomenal goal in the final is in the same league as the football legend, Pele.
Mbappe had previously scored two goals against Argentina in the Round of 16 and the only goal in France's 1-0 win over Peru.
Kylian Mbappe was awarded FIFA Young Player of the tournament for his eye-catching exploits in Russia.
Previous awardees were Paul Pogba (France, 2014), Thomas Muller (Germany, 2010), Lukas Podolski (Germany,2006), Landon Donovan (USA, 2002), Michael Owen (England, 1998), Marc Overmars (Netherlands, 1994), Robert Prosinecki (Yogoslavia, 1990), Enzo Scifo (Belgium, 1986), Manuel Amoros, (France, 1982), Antonio Cabrini (Italy, 1978), Wladyslaw, Zmuda (Poland, 1974), Teofilo Cubillas (Peru, 1970), Franz Beckenbauer (West Germany, 1966), Florian Albert (Hungary, 1962) and Pele (Brazil, 1958).
Mbappe who was born on 20 December 1998 is a French professional football player.
He plays as a forward for both French teams France National and Paris Saint-Germain.
Mbappe began playing at an early age, as he played for the youth academies at AS Bondy.
He used to play for AS Monaco and later joined Paris Saint-Germain on an initial loan for a fee of €180 million. This marks him as a second most expensive player as well as most expensive teenage footballer of all time.
The idea that Kylian Mbappé was not on the planet in July 1998 is actually impossible for me to process.

— Robert Mays (@robertmays) July 15, 2018
[extremely celtics twitter voice] and mbappé's only 19 years old

— nb (@nicjbae) July 15, 2018
Kylian Mbappe has won 2 league titles, two domestic cup competitions and now the World Cup (The World Cup!) and he's still only 19.#FRA

— John Bennett (@JohnBennettBBC) July 15, 2018