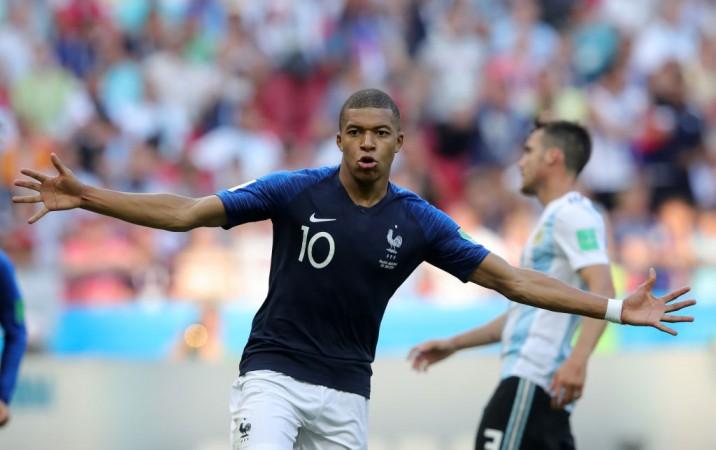 Saturday was a terrific day for football fans as four teams fought to stay in the ongoing Fifa World Cup. Argentia vs France and Portugal vs Uruguay, both of these games created a lot of drama for GOAT (Greatest Of All Time) between Lionel Messi and Christanio Ronaldo fans.
Unfortunately, both players' teams didn't make it to next round.
The tournament has seen underdogs stealing the limelight. Kylian Mbappe, a 19-year-old forward for France, was ruthless on Saturday.
Messi fans were cheering for Argentina, but Mbappe, with two amazing goals, was a trending topic on Twitter.
Kylian Mbappe who is just a teenager scored multiple goals against Argentina and led France to proceed to further stages of WC. After Pele who played for Brazilian Team, Mbappe became the second teenager who scored multiple goals in a World Cup match. The Brazilian footballer scored multiple goals at the age of seventeen while playing for 1958 World Cup.
When Mbappe scored twice, Twitter went crazy. People all over the world were questioning themselves and their life choices.
Here's what people were thinking:
"Kylian Mbappe is the first #FRA teenager to score in a knockout round game, and he has two. When I was 19, I thought it was so clever how I'd put Goldschlager in an Aquafina bottle so I could drink on public transport," one person going by the name of The Pride of London tweeted.
"A performance like that on world's stage. At 19 I was being rejected by Brighton," another person wrote on Twitter.
The player who scored the last two goals for France was born in 1998. I'm going back to bed.

— Stephen Amell (@StephenAmell) June 30, 2018
Kylian Mbappé is 19-years-old and today he is playing for #FRA in the Last 16 of the #WorldCup ...

I am also 19-years-old and today I am eating a ham sandwich while watching Netflixs on the couch.

Oh, and I'm 3 months older than him ?

Ughhh ? ...

— Harry McCann (@TheHarryMcC) June 30, 2018
Kylian Mbappé is just 19. An age at which all I cared about was Beer, Mixtapes, and Football. He just single-handedly torched Argentina in a World Cup game with entire planet watching, prob experiencing more adrenalin on that 80 yard dash than I have in rest of my life combined

— roger bennett (@rogbennett) June 30, 2018
Bit long Mbappe is 19 scoring goals for his country at the World Cup I'm 20 still going out on the piss 24/7

— BenWright (@BenDesire) June 30, 2018
The young PSG star has also reported that all his World Cup earnings will be donated to charity. He believes that one shouldn't be paid to represent their own country. The bonuses will go to the Premiers de Cordees association and his participation wage for various other association after every match. That's €20,000-a-game.
This isn't the first time a football player is donating their wages. David Beckham previously donated all his PSG earnings to children charity in Paris. The England team also donates money to EFF England Footballers Foundation.
The young lad wasn't even born when the country won its only World Cup trophy in 1998 at their own home country. Mbappe was born on 20th December in 1998.